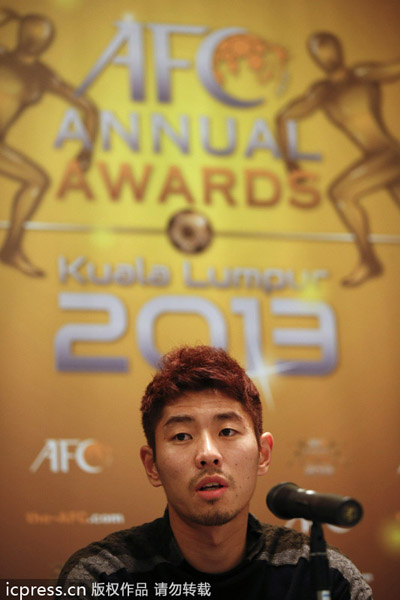 South Korea's FC Seoul soccer player Ha Dae-sung, a nominee for the 2013 Asian Football Confederation (AFC) Player of the Year award, speaks during a news conference in Kuala Lumpur, Malaysia, Monday, Nov 25, 2013. [Photo/icpress.cn]
SEOUL - South Korean football club FC Seoul on Friday officially announce that it has agreed to ship captain Ha Dae-sung to China's Beijing Guo'an club, who will departed for Beijing this Sunday for a physical test, local media reported.
FC Seoul said the 28-year old veteran midfielder asked the team to give him an opportunity to play in a new environment.
Seoul finally decided to respect Ha's choice and signed deals with Beijing side, according to the Yonhap news agency.
Ha has received three offers from foreign clubs between 2012 and summer of 2013, according to FC Seoul.
Ha made his K League Classic debut with Ulsan Hyundai in 2004 and then played for Daegu FC and Jeonbuk Hyundai Motors. Joining FC Seoul in 2010, Ha led the team as the captain in the past two seasons. He helped FC Seoul win the K League Classic championships in 2010 and 2012, and finished second to China's Guangzhou Evergrande at the 2013 AFC Champions League.
Ha is another central piece of FC Seoul player to leave South Korea this offseason after Montenegrin striker Dejan Damjanovic agreeing a move from FC Seoul to China's Jiangsu Sainty for a reported 4 million US dollars.
It is reported that Mauricio Molina, one of the league's key members, is also on the transfer market.
FC Seoul said it will make every possible effort to compensate for these losses next season and still main its goal of winning the K League Classic and the AFC Champions League.
Meanwhile, FC Seoul last week has offered its defensive back Adilson dos Santos a coaching position starting next season, suggesting the Brazilian veteran to serve the team in an alternative way.