Some offshore institutions are struggling to find the best way to generate profits from China's wealth management sector, Xie Yu reports from Shanghai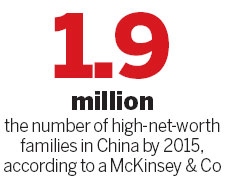 The swelling wealth in China is attracting foreign financial institutions in a proverbial gold rush, but experts suggest it's wise to look before leaping.
The term "private banking" was brought to China by foreign banks in about 2006. Seven years later, the market has grown significantly, but foreign institutions still struggle to find the best way to generate profits here, according to Jimmy Leung, head of banking and capital markets at PwC China.
"Based on their account books, almost no foreign branch is making money in the China market in the private banking segment," he said.
Each year, dozens of reports come in from many different consultancies, all claiming that China's wealth has broken a new record and that opportunities for wealth management abound.
According to a report issued by McKinsey & Co in late November, by 2015, the nation will boast more than 1.9 million high-net-worth families (with investable assets of more than $1 million). And total investable assets are projected to hit 58 trillion yuan ($9.5 trillion).
But according to the report, only a very small percentage of the high-net-worth families (HNWFs) or individuals (HNWIs) will create profitable opportunities for the foreign private banks.
"The majority of the HNWFs, based on the $1 million assets threshold, are actually mass affluence. They are not the traditional target clients of foreign private banking," Leung said.
Mass affluence, according to Leung, refers to the affluent middle class that has emerged in China in recent years. They make good pay, own homes and cars and show a willingness to buy financial instruments such as bonds, securities or derivatives for wealth generation.
But that is not the traditional stronghold of foreign private banking.
"They (foreign banks) are, let's say, quite strong in financial instruments innovation in overseas market. But it is a totally different story in China," Leung said.
Because China's market is at its initial stage of financial innovation, the authorities are taking a conservative approach to financial instruments innovation.
A highly structured derivative product with an expected return rate of 15 percent sold in the United States would never get approved here, Leung explained.
"We are dealing with, mostly, first-generation HNWIs. They are self-starters, having made fortunes with their own hands in the past decade, and are more than capable of making financial decisions themselves," said James Xi, general manager of a third-party wealth management institution based in Shanghai.
Many HNWIs seek to shift the management of their money to banks, "but I do not think a lot of them are used to paying consultants. We just don't have that custom in China", he added.