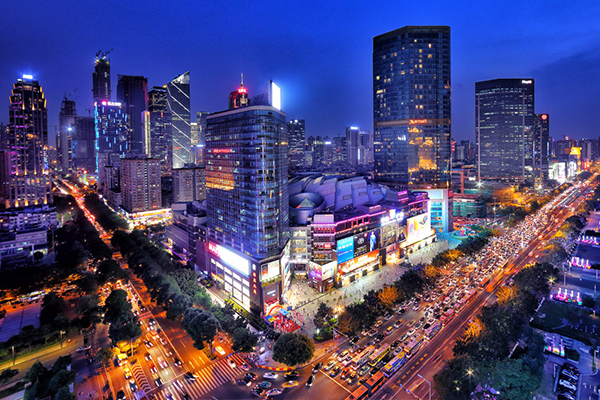 Nightview of Tianhe district in Guangzhou, Guangdong province. [Photo provided to chinadaily.com.cn]
Guangzhou's Tianhe district will focus on expanding its financial industry, and will continue to improve the business environment to attract companies to set up headquarters there in the next five years. It aims to increase its gross domestic product (GDP) to 500 billion yuan ($73.84 billion)by 2020, the district government work report said on last Tuesday .
Tianhe district is the top economic area in Guangzhou, Guangdong province. Last year, the district's GDP reached 343.3 billion yuan.
The financial services industry is dominant in Tianhe district. According to the district government work report, Tianhe will continue to improve the modern financial service system and optimize financial development environment.
By the end of 2020, the added value of the Tianhe financial sector hopes to reach 24 percent of GDP.
The district will set up high-level, high-quality, and high-tech industrial cluster. The new generation information technology industries including mobile internet, cloud computing and big data will gather in Tianhe's smart city area.
The district also has built a "Internet Plus" town. Currently, more than 400 internet companies are operating in this area, generating 50 billion yuan annual revenue in 2015.
In the next three years, the district government will deeply integrate the information technology into modern service industry and high-end manufacturing industry to create a 100 billion yuan "internet" industrial cluster in the town.
Tianhe's CBD area contributes 70 percent of its economic aggregate. The district government will improve the area's environment and adjust industry structure to build a park-like CBD in Zhujiang new town during the 13th Five-Year Plan (2016-2020) period.
In the next five years, the government will also sharpen its competitiveness in its investing environment by upgrading its management and service level. It plans to attract no fewer than 225 Global Fortune 500 companies to locate in its CBD area by 2020.
Tianhe district's other goals are to becoming a more livable area for people, and to build incubators for young people to start businesses.