Children get safer way to traverse 800m cliff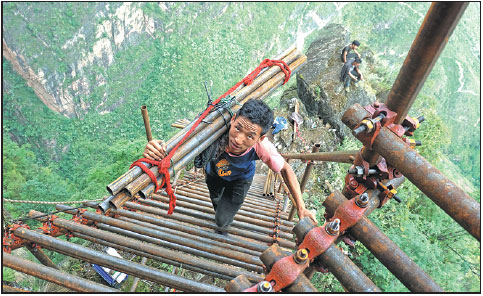 Mose Xiongti, 21, of Atuleer village, carries materials used in constructing a steel ladder that villagers soon will use to more safely traverse an 800-meter cliff to their homes. The village is in Liangshan Yi autonomous prefecture, Sichuan province.Provided To China Daily
A steel ladder will soon replace a rickety rattan structure used by children and other residents of a remote mountaintop village in Southwest China to traverse an 800-meter cliff to reach the outside world.
Work on the new ladder connecting Atuleer with the rest of Liangshan Yi autonomous prefecture is expected to be complete early in November.
"Children who attend the boarding school at the foot of the mountain will be able to more safely return home to celebrate the Yi lunar new year," said Er Dijiang, the village chief.
The prefecture, one of the least-developed areas of Sichuan province, has the largest population of Yi ethnic people in China. According to the ethnic group's lunar calendar, new year celebrations will run from Nov 20 to 27.
The steel ladder, complete with handrails, is being built at a cost of 1 million yuan ($148,000), with the prefecture government and Zhaojue county each chipping in half the cost.
The rattan structure, made up of a chain of 17 smaller ladders tied together without rails or other safety features, has been used by the village for years, but not without risk. A middle-aged villager was killed in a fall from a rattan ladder this year.
Fifteen children, ages 6 to 15, from 72 households in Atuleer have used the rattan ladders on their way to and from their boarding school every two weeks. Villagers also have had to use the ladders to reach the nearest market several kilometers away once a week to buy necessities and sell their farm produce, including peppers and walnuts.
Song Ming, an information officer for the Liangshan Yi government, said there are many rattan structures in the prefecture but the one to Atuleer village is the most dangerous.
"I have scaled rattan ladders before. But when I scaled the one in Atuleer in August, I was terrified because it is so steep," he said.
Photos of the students creeping up on the cliff on the rattan ladders along with a story, run in May by a Beijing newspaper, caused an uproar online. Liangshan officials decided to remedy the situation.
But it was impossible to relocate the villagers, who say they do not want to leave their lofty homeplace. So Lin Shucheng, Party chief of the prefecture, promised to build a steel ladder to replace the rattan ladders to ensure the safety of the villagers.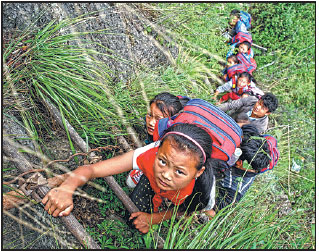 Schoolchildren use a rattan ladder in May to scale the 800-meter cliff to reach home. The children, who attend a boarding school, make the climb to and from their homes every two weeks.Chen Jie / For China Daily