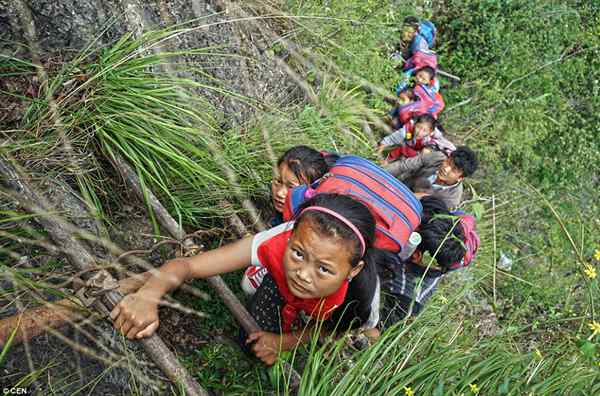 Scary experience: The journey up the terrifying cliff face takes around two hours and the students are accompanied by three adults
A steel ladder has been erected in the village of Atule'er in Sichuan's Liangshan Yi Autonomous Region. The goal of the ladder's construction is to make movement around the "cliff village" more convenient for its residents, Beijing News reported on Sept 1.
Atule'er, home to 72 families, is known as a "cliff village" because the village sits on the slope of a mountain with an elevation of 1,400 meters. The only route to the outside world consists of 17 vine ladders. Villagers usually visit the market at the foot of the mountain once a week. The 15 students in the village go home just twice a month, as it takes them two hours to make the journey. Parents take turns escorting the children there and back.
"In order to make it safer for residents to leave the village, we built a steel ladder beside the original vine ladders," said A Wu Mu Niu, party secretary of Zhi'ermo Township. Two of the vine ladders have also been reinforced, and reinforcement will be completed on the remaining ladders within a month.