10,000 apply for a single civil service post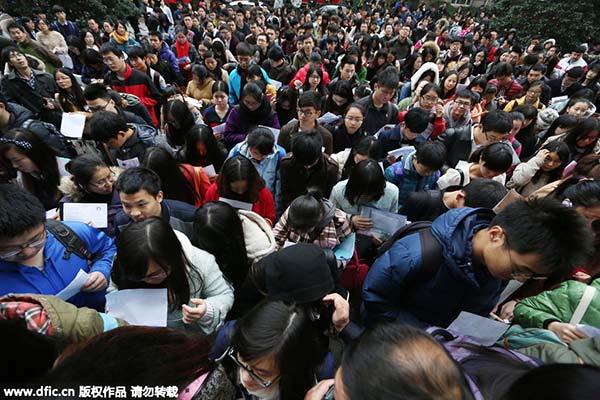 Chinese examinees walk towards an exam site to attend the 2015 China National Civil Service Examination in Nanjing city, East China's Jiangsu province, Nov 30, 2014. [Photo/IC]
About 2.115 million people applied for this year's national civil service exam by 6 pm on Monday, the last day of application, surpassing last year's 1.998 million.
Applicants showed special enthusiasm for certain job vacancies and tepid interest in others among the more than 27,000 government posts available.
As the qualification screening is underway until Wednesday, 1.36 million people have now became qualified exam candidates.
As of 5:30 pm on Monday, a vacancy at the Central Committee of the China Democratic League's reception office attracted a record-breaking 9,837 qualified applicants, becoming the most competitive job this year.
The State Administration of Taxation's nationwide branches are the most desirable employer for applicants. The system plans to recruit 17,476 people for 9,455 vacancies this year, accounting for 64.58 percent of all recruitments.
The top ten departments receiving the most applications all come from the taxation system. Taxation branches in Shandong ranks first by screening out 42,027 qualified applicants, followed by Guangdong with 40,384 applicants, and Guizhou with 38,579.
In sharp contrast, 223 vacancies saw no one apply. Meteorological departments struggle to attract people, with most of their vacancies in remote and less developed areas.
It is normal to see an uneven distribution in job applications, said Li Zhong, spokesperson of Ministry of Human Resources and Social Security.
He thinks that some hot posts attract many applicants because they have more lenient requirements in education background, major and work experience, while some posts are unpopular because they have demanding prerequisites, or difficult working conditions in remote areas.