Half a million people apply for civil service exams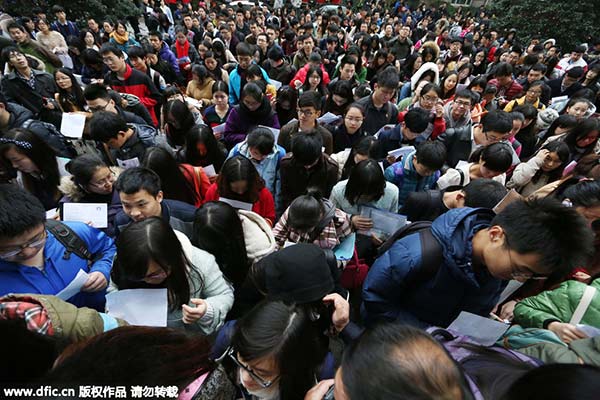 Chinese examinees walk towards an exam site to attend the 2015 China National Civil Service Examination in Nanjing city, East China's Jiangsu province, Nov 30, 2014. [Photo/IC]
Over 500,000 people registered to take China's national civil-service examinations only six days since registration began. As of 4:00 pm October 20, the registration system has already verified 521,120 candidates to participate in the exam, 87,471 more than the figure at the same time last year. The average number of applicants per position reaches 19.25:1.
At present, the position with the largest number of applicants is an opening under the Central Committee of the China Democratic League. A total of 2,162 applicants are competing over this one job. Additionally, the number of applicants amounts to over 10,000 for provincial tax administration bureaus in 13 provinces.
Conversely, 920 positions received not even a single applicant. The majority of these positions are arduous, base level jobs stationed in relatively rural areas. For example, the Hohhot Railway Public Security Bureau is looking to hire six people. However, not one person has yet to register for those positions.