Steps taken to 'speed up' corrupt fugitives' return from US
China, US said to be 'in advanced negotiations' on 5 most-wanted officials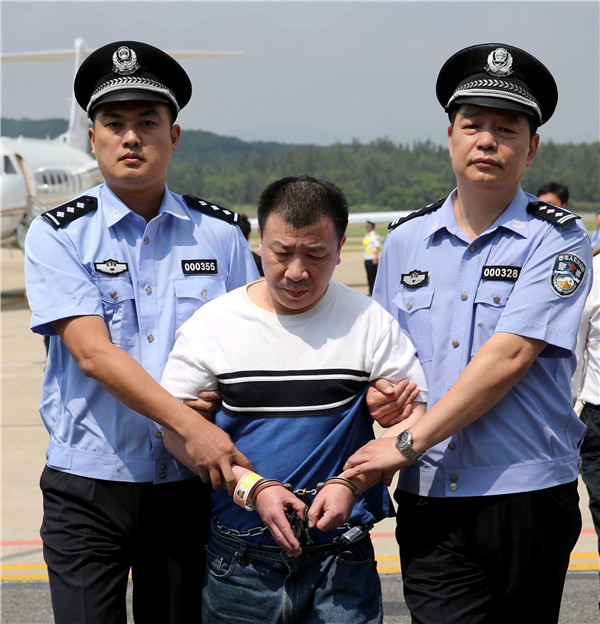 Yang Jinjun, former general manager of Minghe Group in Wenzhou, Zhejiang province, was repatriated in September last year. Yang was the first of the 100 most-wanted fugitives repatriated from the US. [Photo/Xinhua]
Chinese and US judicial authorities have been speeding up negotiations on returning five most-wanted corrupt Chinese officials, who are still on the run in the United States, to face trial at home.
A senior official from the Communist Party of China Central Commission for Discipline Inspection said that "achievements have been made" on some major cases through judicial and diplomatic channels, although no bilateral extradition treaty was signed between the two countries.
The official, who declined to reveal his name, said Chinese law enforcement officers are seeking assistance from their US counterparts to return the five key corruption suspects, including Yang Xiuzhu, former deputy head of the Zhejiang Provincial Construction Bureau, and Xu Chaofan, former director of Bank of China's Kaiping branch in Guangdong province.
Yang is suspected of illegal gains totaling 250 million yuan ($37 million) and illegal immigration, and has applied to the US to cancel her political asylum in the US to facilitate her return, according to the CCDI.
Xu, suspected of the theft of bank assets worth $483 million, is willing to come back to confess his crime, the source said.
"We will offer relevant evidence to our US counterparts in a timely manner and leave for the US at a proper time to conduct a joint investigation with our counterparts," the CCDI official said. "We are in advanced negotiations with the US to speed up the process for the fugitives' return."
In recent years, the US, Canada, Australia and Singapore have become popular destinations for corrupt Chinese officials who flee, due to lack of bilateral extradition treaties and differences in laws, according to the Ministry of Public Security.
Meanwhile, a large number of corrupt officials have transferred billions of yuan in illegal funds to their foreign accounts either through money laundering or underground banks, the ministry said.
Since April last year, when Interpol issued red notices to track down 100 major Chinese corrupt officials who fled, four have returned from the US to face trial, including 58-year-old Yang Jinjun, brother of Yang Xiuzhu, who is suspected of bribery and corruption.
He was forcefully repatriated to China from the US in September last year after spending 14 years on the run.
Although progress has been made, some obstacles still hinder the efforts between China and US in nabbing fugitives and confiscating their illegal funds.
Zhang Xiaoming, deputy director-general of the judicial assistance and foreign affairs department of the Ministry of Justice, said it is necessary to offer solid evidence to US judicial officials and to make sure Chinese law enforcement officials are well-versed in US and international law.