Teacher's spirit keeps village school open, only 2 students left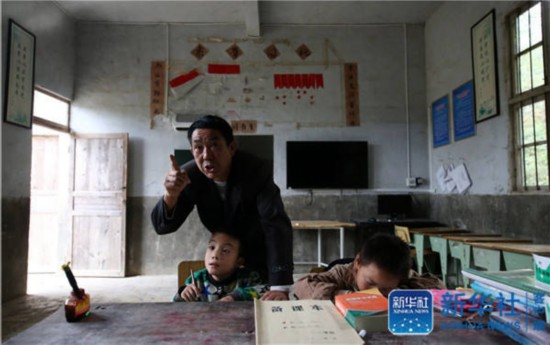 Yang Jinhua, the only teacher in Muqiao primary school, helps students with their homework on October 24, 2016. [Photo/Xinhua]
Located in Guantang, a minority ethnic village in southwest China's Chongqing autonomous municipality, Muqiao primary school has only one teacher and two students which are both in the first grade and persist in their educational pursuits, reported Xinhua News.
The school is on the mountain, and in the autumn of 1981, there were not enough teachers in the Muqiao primary school. Yang Jinhua, then an 18-year-old villager who had just graduated from high school, came to teach.
Over the last 35 years, Yang Jinhua has been teaching in Muqiao primary school. He gave up many opportunities to teach elsewhere, off the mountain. Besides teaching, Yang Jinhua also helped fix the road to the school on the mountain.
Now at the age of 53, Yang Jinhua said that as long as there is one student learning in the school, he will stay there and teach.