KMT leader to make trip to mainland
First official visit of Kuomintang party's new chairwoman expected to boost cross-Straits ties
Hung Hsiu-chu, chairwoman of Taiwan's Kuomintang party, will pay a five-day visit to the Chinese mainland starting on Sunday, the State Council Taiwan Affairs Office announced on Monday.
It will be Hung's first visit to the mainland since becoming head of the KMT on March 30.
It also will mark the first visit by the KMT's leader since the party lost the island's leadership and its legislative majority to the Democratic Progressive Party in January.
Before Hung arrives in Beijing to attend a forum on cross-Straits relations on Nov 2, she will visit Nanjing, capital of Jiangsu province, where the Sun Yat-sen Mausoleum is located, according to An Fengshan, spokesman for the office. Sun was the founding father of the KMT.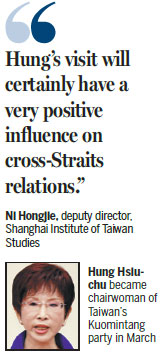 A detailed schedule for the visit has not yet been decided, including whether President Xi Jinping will meet with Hung. An said both sides are working on the agenda.
"Hung's visit will certainly have a very positive influence on cross-Straits relations," said Ni Yongjie, deputy director of the Shanghai Institute of Taiwan Studies.
The Nov 2 meeting that Hung will attend - the Cross-Strait Trade, Economy and Culture Forum - is jointly hosted by nongovernmental organizations from the mainland and Taiwan and has played an important role and generated fruitful results since it was established a decade ago, according to Ni.
About 200 delegates from across the Straits will take part in the forum to discuss politics, economy, culture, society and youth.
Ni said the meeting between Xi and then Taiwan leader Ma Ying-jeou, a former KMT chief, which took place in Singapore last November, greatly improved the level of exchanges and trust between the two sides, and the possible meeting between Xi and Hung will also benefit the peaceful development of cross-Strait relations.
Hung was once the KMT candidate for the island's leadership, but was replaced by Eric Chu, then chairman of KMT, before the final vote.
Chu resigned after the party lost the election, and Hung became its new leader. She has been nicknamed "Little Chili Pepper" by locals for her straightforward style.
Ni said he believes that Hung and the KMT will maintain communication based on the 1992 Consensus, which affirms the one-China policy and opposes "Taiwan independence".
"Without endorsement of the 1992 Consensus, the ruling DPP has brought cross-Straits relations into a cold period," Ni said, adding that Tsai Ing-wen, chairwoman of the DPP, declined to clear up her stance on the 1992 Consensus in her latest speech this month.