Nuke submarine to go on display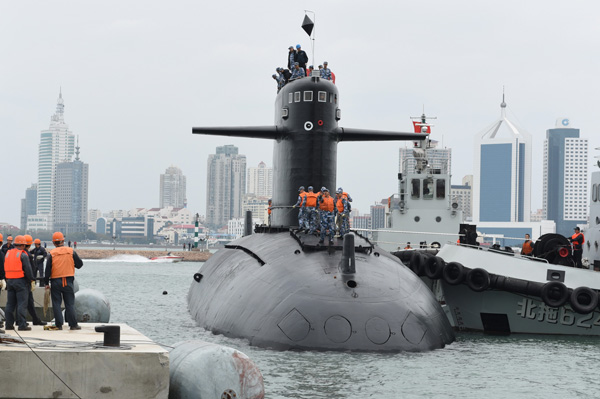 A nuclear-powered submarine is berthed at a port of the Chinese Navy Museum in Qingdao, Shandong province, on Oct 15. The vessel will be displayed at the museum soon. [Photo by Lai Yonglei / For China Daily]
Chinese military enthusiasts can see tanks, artillery guns and fighter jets in military museums around the nation, but what is coming is probably beyond their expectations-a nuclear-powered attack submarine.
According to an announcement by the North Sea Fleet of the People's Liberation Army Navy, China's first nuclear-powered submarine was towed to a port of the Chinese Navy Museum in Qingdao, a coastal city in Shandong province, in mid-October.
"This boat, which sailed oceans for more than 40 years, will soon be presented as an exhibit to you at the museum," the announcement said. "Before arriving at the museum, the submarine's nuclear parts have been removed, in accordance with international standards, so the boat is completely safe."
The decommissioning of the submarine, together with the safe disposal of its nuclear reactors and waste, indicates China is able to not only develop and operate nuclear submarines, but also properly handle them when they retire, it added.
Though the announcement did not reveal the type and name of the retired submarine, an earlier report by PLA Pictorial said it is the CNS Long March-1, a Type-091 nuclear-powered attack submarine.
As the PLA Navy's first nuclear submarine, the boat was built and commissioned in the early 1970s, the magazine said.
Xinhua News Agency reported that Type-091 submarines were produced based on technology from the 1950s and 1960s, and have short-range weapons.
With a displacement of 5,000 metric tons, the Type-091 submarine is usually equipped with six torpedo tubes, it said.
The PLA Navy has at least 10 nuclear-powered submarines remaining in service, according to the industry bible Jane's Fighting Ships.
Yin Zhuo, director of the PLA Navy's Expert Consultation Committee, said the display of the nuclear submarine will enable the public to increase their knowledge and understanding of the Chinese Navy.
"The Type-091 nuclear submarine had been of great importance because it conducted combat-ready patrols," he said. "Showing such a significant weapon will arouse the public's interest in the PLA Navy's history and future."
The expert also suggested that displaying advanced ships, submarines and weapons at domestic maritime exhibitions would establish a closer connection with the public.
However, Yin said the odds are very low of a Type-092 nuclear-powered ballistic missile submarine being displayed at the Chinese Navy Museum after it retires, because such equipment will still be a top secret for many years. No navy in the world has ever put a nuclear-powered ballistic missile submarine on display in a museum, he added.