Authorities strengthen efforts to recover stolen assets overseas
The nation's top anti-graft bodies are working to retrieve more than $1 billion sent to foreign bank accounts by corrupt officials. Zhang Yan reports.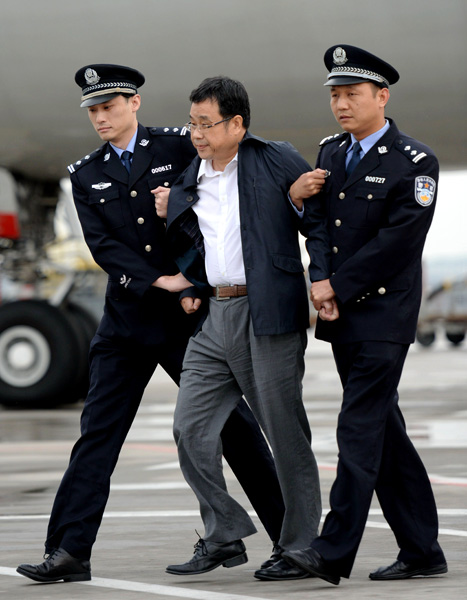 Police officers escort Li Huabo, a former finance official from Jiangxi province, at Beijing Capital International Airport after he was repatriated from Singapore in May last year. The 54-year-old fled China in 2011 after being accused of embezzling 94 million yuan ($13 million). [Photo/Xinhua]
The government is stepping up efforts to recover billions of yuan in assets illegally transferred overseas by corrupt officials via money laundering platforms and underground banks.
Statistics provided by the Central Commission for Discipline Inspection, the nation's top anti-graft watchdog, show that from 2014 to July, the police confiscated illicit assets sent overseas worth 7.62 billion yuan ($1.14 billion).
Last month, during Premier Li Keqiang's official visit to Canada, the two countries signed a bilateral agreement to share illegally transferred assets, a move that is being seen as a milestone in China's program to recover misappropriated funds and assets. Similar agreements are now under negotiation with the United States, Australia and France.
"Such agreements provide a legal framework for the countries involved to share the proceeds of stolen assets with China, once they are able to confirm that the money was transferred illegally by corrupt individuals or criminal organizations," said Hong Daode, a professor of criminal law at the China University of Political Science and Law in Beijing.
Chain of evidence
According to the Ministry of Public Security, a lack of bilateral extradition treaties and differences in national legal systems have seen the US, Canada, Australia and Singapore become popular destinations for corrupt officials in recent years.
You Xiaowen, deputy director of the ministry's economic crimes investigation department, said the Chinese police face practical difficulties in repatriating fugitives and recovering funds: "It's the result of a lack of signed extradition treaties, political differences and complex legal procedures."
Huang Feng, a professor of international criminal law at Beijing Normal University, stressed that evidence is crucial in such cases. "The most difficult issue is that we can't provide sound evidential documents to our foreign counterparts, such as the US and Canada, to form a 'complete chain of evidence'," he said.
Evidence of this kind, prepared to better meet the requirements of judicial systems in Western countries, is expected to break the gridlock of technicalities that has been the biggest obstacle to cooperation on law enforcement between China and other countries, he said.
Zhang Xiaoming, deputy director-general of the judicial assistance and foreign affairs department at the Ministry of Justice, said solid information is essential when requesting judicial assistance from other countries in "identifying, freezing and confiscating ill-gotten assets that have been transferred overseas".
According to Zhang, the information mainly includes proof of bribes accepted by officials who abused their power to obtain assets illegally and transfer them to other countries.
Lei Ming, a senior officer with the ministry's economic crimes investigation bureau, said more agreements will smooth the way for the recovery of stolen assets.
"When bilateral agreements have been signed with more Western countries, they will facilitate the return of the money transferred by fugitives and the recovery of losses, which will help to combat crimes of this nature," he said.
Amended laws
Under the revised 2014 Criminal Procedural Law if corrupt fugitives are at large in foreign countries, and therefore unable to attend court hearings in China, prosecution lawyers will apply to the Supreme People's Court, the country's top legal tribunal, to rule on the confiscation of assets they have moved overseas.
"Then we will offer the necessary legal documents, such as asset-restraining orders, to other countries to request their judicial assistance in accepting the verdict of the court, and take immediate action to freeze and confiscate the illegal funds," said Zhang, from the Ministry of Justice.
Before the revised law came into force, if suspects failed to attend hearings, the courts were unable to pronounce sentences or arrange for their illicit gains to be confiscated.
In a recent high-profile case, Li Huabo, a former finance official from Jiangxi province, returned to China in May last year after spending four years on the run in Singapore.
Li, 54, who embezzled 94 million yuan, fled China in 2011 and obtained permanent residence in Singapore, but was later arrested by local police at a casino. In 2014, a court in Singapore sentenced Li to 15 months in prison for "dishonestly accepting bribes" and illegally transferring the money to Singapore via underground channels.
A court in China ruled that the assets Li had sent overseas should be confiscated, even though he didn't attend the hearing, and provided solid evidence to the Singaporean authorities, including an asset-restraining order, which was crucial for his successful repatriation and subsequent trial.