Authorities strengthen efforts to recover stolen assets overseas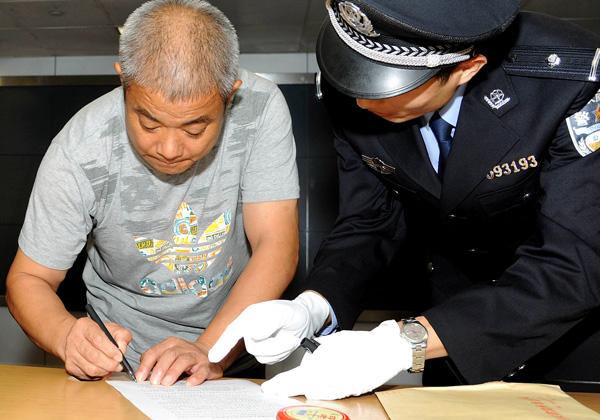 Zhao Ruheng, one of China's 100 most-wanted fugitives, countersigns his arrest warrant at Shanghai Pudong International Airport after being repatriated in November last year. [Photo/Xinhua]

Shift of focus
Since November 2012, when China's new leadership was elected and President Xi Jinping launched a sweeping anti-graft campaign targeting both high and low-ranking officials-or "tigers and flies"-the battle against corruption has become a national priority.
In 2014, the government set up the Central Anti-Corruption Coordination Group, led by the CCDI, and launched Operation Sky Net to detain economic fugitives overseas.
In April last year, Interpol issued red notices-international arrest warrants-for 100 major fugitive officials. By this month, 35 had been repatriated from 16 countries and regions, including four from the US and eight from Canada, according to the CCDI. Two of the 35 have already been convicted and sentenced.
As part of a new focus in the hunt, the police will not only repatriate officials who have absconded overseas, but will also place more emphasis on recovering the assets they obtained illegally, according to the Ministry of Public Security.
That will see public security authorities working closely with the People's Bank of China's anti-money laundering department to monitor suspicious flows of assets to other countries and take measures to prevent such crimes, according to Lei Ming, a senior ministry official.
Authorities will also improve communication and conduct joint investigations with other countries on a case-by-case basis to repatriate and try more corrupt officials. They will also share intelligence with their foreign counterparts to locate, freeze and recover stolen assets, he said.
You Xiaowen, deputy director of the economic crimes investigation department, said fugitives will have nowhere to hide: "No matter where they escape to, we will use every means to bring them back to face the music."


Related stories:
Breakthrough agreement signals harder stance
Top suspect willing to return and face the music
How illegally gained assets are sent abroad