The Netherlands hopes to advance multifaceted cooperation to continue a centurylong friendship with Nantong, Jiangsu province, said Anneke Adema, the country's consul general in Shanghai.
The historical ties can be traced to back to around the 20th century when Dutch engineer Hendrik de Rijke traveled to Nantong to help develop the city's water projects.
He led the construction of several water projects and designs of another five sluices, six reservoirs and three roads from 1916 to 1919 during his stay.
During an inspection of a sluice construction site, the 29-year-old was infected with cholera. He died on his way back to Nantong.
His assistance set a good example for cooperation between the Netherlands and Nantong, Adema said at a meeting with Mayor Han Liming. Adema led a delegation of Dutch businesspeople on a visit of Nantong from Thursday to Friday.
The two locales share many similarities and have a promising future in cooperation in water projects and treatment, Adema said.
She said she expects the cooperation to go beyond water conservancy facilities to a wider range of sectors such as economics, culture, education and tourism.
The Dutch delegation, which also included diplomats as well as de Rijke's descendants, also attended a forum in memory of the young Dutch civil engineer.
Zhang Shushan, chief of the city government's publicity department, said the themed event is designed to commemorate de Rijke's contributions to Nantong, promote friendly exchanges with the Netherlands, and advance bilateral collaboration in urban planning and development, and water projects.
Representatives from more than 40 local companies and industrial parks explored cooperation probabilities with their Dutch peers at the forum about how the city can develop sustainably.
The Nantong Development Bureau signed a memorandum of understanding for further cooperation with Deltares, an independent institute for applied research in the field of water and subsurface with a focus on deltas, coastal regions and river basins.
The coastal city on the Yangtze River Delta has maintained a healthy growth momentum, thanks to a series of strategies including the Belt and Road Initiative and integrated regional development on the delta, Mayor Han said.
In 2015, Nantong reported more than 600 billion yuan ($91.22 billion) in GDP, ranking at the forefront of the country, and $31.4 billion in foreign trade, fourth in Jiangsu province.
Her administration will continue to offer high-quality and effective services and improve the city's environment for business and industrial development, Han said.
The Dutch delegation visited de Rijke's archives in Nantong and exchanged views on water treatment technologies and urban designs with Nantong companies on a Friday tour around the city.
Contact the writer at dingcongrong@chinadaily.com.cn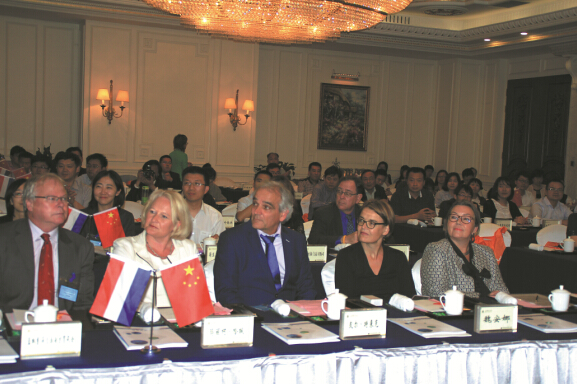 A Dutch delegation attends a forum in Nantong on Thursday to commemorate the late young Dutch civil engineer Hendrik de Rijke, who helped the city design and construct reservoirs and sluices from 1916-19. DING CONGRONG / CHINA DAILY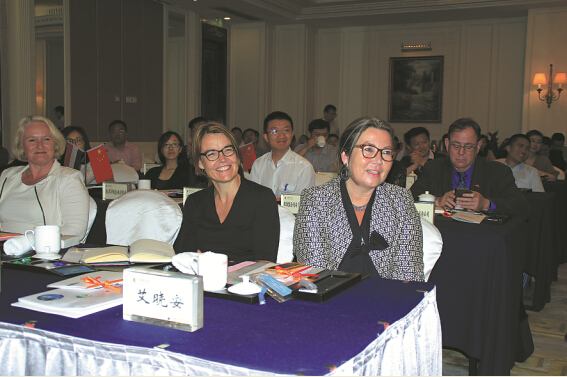 Anneke Adema (right), consul general of the Netherlands in Shanghai, leads a Dutch delegation on a visit to Nantong that concludes Friday. DING CONGRONG / CHINA DAILY