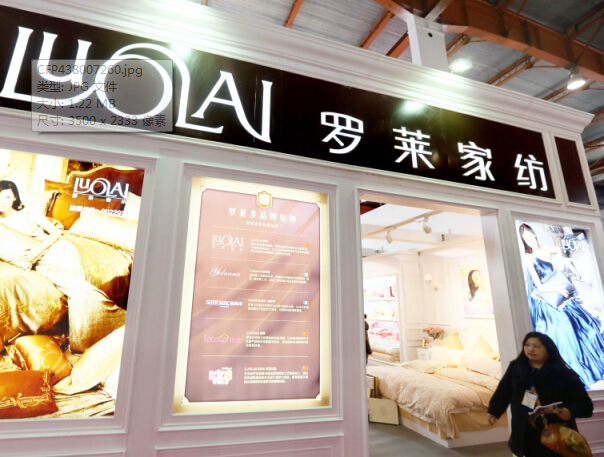 Luolai, a home textile company headquartered in Nantong, Jiangsu province
The industrial design sector of Nantong, Jiangsu province, has entered a key stage for optimized upgrades and accelerated growth, according to a report released on Sunday.
The results of a survey conducted by the city's industrial design association over three months cover 31 local companies from a wide range of sectors including textiles, shipbuilding and marine engineering, machinery manufacturing, environmental protection, and chemicals.
Respondents also included five industrial design institutes and eight colleges and universities with related majors.
The budding of industrial design in Nantong can be traced back to the 1990s, said Dai Huanlin, executive vice-president of the association.
The Nantong Radio Plant cooperated with the China Central Academy of Fine Arts to design a clock-control radio in 1990. "The product and the idea behind its design both lived up to the then advanced level in the world," Dai said.
As industrial design began gaining growing acceptance in the city, the local government and business community increased their efforts to promote the sector's development.
Against such a backdrop, the association was founded in March 2012 and, three months later, the city government signed a comprehensive cooperation agreement with Northwestern Polytechnical University. Accordingly, an industrial design institution affiliated with the university was set up at the Nantong Economic and Technological Development Area at the end of that year.
The number of research and development facilities in local businesses has grown to nearly 900 from 478 in 2011, and the city is home to more than 1,000 high-tech companies.
Yuan Hongsheng, vice-chairman of Jiangsu Jintaiyang Textile Tech Co Ltd, said, "An industrial design can't be popular unless it addresses real needs."
"R&D is the key to our business," he said. The company employed a professor from Soochow University to found a cloth pattern design studio in 1999, reportedly the first of its kind in the country, which was named a State-level industrial design center in 2013.
Another business player with outstanding performance in industrial design is Nantong Ironmaster Sporting Industrial Co Ltd, which specializes in designing and manufacturing fitness equipment and sporting goods.
The company brought in experts and specialists from Italy and conducted cooperation with such higher learning institutes as the University of Shanghai for Science and Technology and Northwestern Polytechnical University to found a design center, which has become an engine of Ironmaster's growth.
Luolai, a leading domestic player in the home textiles sector, has also benefited from its investment in industrial design.
The company poured nearly 200 million yuan ($30.68 million) into industrial design over the past three years, generating 21 new designs that contributed more than 60 percent of the growth in the company's average annual profits.
The survey also found that the sector faces such challenges as a low industrialization level and a shortage of qualified personnel.
Du Wei, vice-president of the Nantong industrial design institution affiliated with Northwestern Polytechnical University, said, "Industrial designs need crossover elements and further incorporation with the Internet and diversified cultures."
Since its establishment, the institution has formed partnerships with companies in many sectors, including Ironmaster, telecommunications giant Huawei and China International Marine Containers (Group) Ltd.
Industrial design now focuses more on user experience than the appealing exterior of products as it did formerly, Du said.
The research team in charge of the survey suggested Nantong offer favorable policies, map out a long-term industrial development plan and create a more friendly environment for the industrial design sector's growth.
Contact the writers through dingcongrong@chinadaily.com.cn