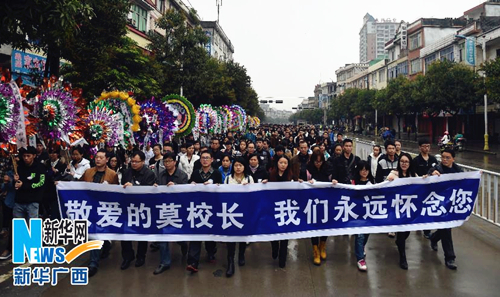 Crowds of alumni gather in the Du'an Yao autonomous county in Hechi on March 15, to bid a farewell to their beloved headmaster, Mo Zhengao. [Photo by Lu Bo'an/Xinhua]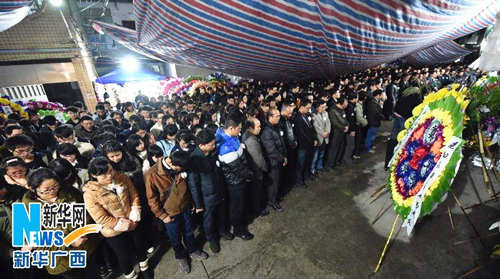 Many people mourn the death of Mo Zhengao in Du'an, Hechi, on March 15. [Photo by Lu Bo'an/Xinhua]
On the morning of March 15, thousands of people gathered in the Du'an Yao autonomous county in Hechi to bid farewell to their former headmaster, Mo Zhengao.
The 59-year-old Mo Zhengao had worked at the Du'an Senior High School in the Guangxi Zuang Autonomous region for 37 years before passing away due to illness on March 9. During the years he worked at the school, Mo raised donations of more than 30 million yuan ($4.8 million) and helped 18,000 impoverished students to attend college. He was affectionately called "father" by his students.
On hearing the news of Mo Zhengao's death, many alumni hurried back to Du'an from cities such as Beijing and Shanghai. Many university organizations, such as the enrollment office of the Tsinghua University, sent messages of condolence in response to Mo's death.
Du'an Yao autonomous county is a key county included in the plan for poverty alleviation through development. It is located in a destitute stony desertification area with poor natural environment.
Although Du'an Senior High School is only a county high school, it is renowned in the whole region of Guangxi. For more than 20 consecutive years, students from Du'an Senior High were admitted into elite schools such as Tsinghua University and Peking University every year and nearly one third of students reached the grade cut-off point of key undergraduate schools.
In 2014, about 200 students in Du'an Senior High School were able to receive a 200-400 yuan subsidy. It was Mo Zhengao who gave the students an opportunity to go on study and realize their dream of entering university. Although Mo Zhengao is now gone, his legacy will live in the hearts and minds of his former pupils forever.
Edited by Jake Hooson