Xuzhou Construction Machinery Group will present 44 machines and 41 sets of parts at bauma China 2014. With an area of 5,192 square meters, it will be the largest domestic exhibitor in this field at the event.
The group, established in 1989, is the birthplace of China's first auto crane and first roller. It has ranked number one in terms of its major indicators in the Chinese construction machinery industry for 25 consecutive years. Its success is owed to its adherence to its core values of "taking on important tasks, pursuing the right way and becoming a winner", making it a Chinese enterprise with assets of more than 100 billion yuan ($16.3 billion).
The group, listed as one of the world's top five in this field, has sent its products worldwide with its sales of traveling cranes at the top of the global market.
It has set up a sales service network worldwide, a manufacturing base in Brazil and six assembly plants overseas. It has also established R&D centers in Germany and the United States, a procurement center in Europe and merged three European enterprises including German Schwing. It exports more than 10,000 machines annually to 169 countries.
Its LW900KN-LNG loader, the world's largest LNG loading machine, can meet the needs of 12 hours of operation with a single filling fuel. It's powerful, safe, comfortable and energy-saving features have received recognition from big ports, logistics centers and large mines.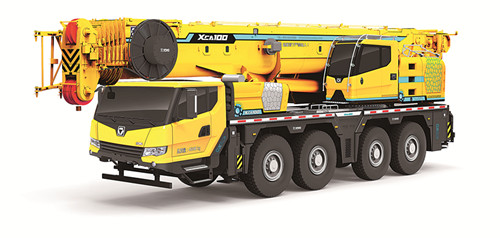 XCA100
XCA100 is a 4-axle all terrain crane able to lift 100 tons. The machine uses the world's leading technologies including a double boom pin and single-cylinder pining telescopic system, an independent suspension system with large load and single beam and intelligent crane boom. It has more powerful lifting and driving performance compared with its counterparts around the world.
XS363 vibratory rollers, with the appearance of a Chinese dragon jointly developed by the group and Tsinghua University, are the world's strongest compaction equipment. The machine adopts the directional vibrating with an influence depth reaching more than five meters. Its synchronous all-wheel-drive self-adaptation system features a strong drive capacity.