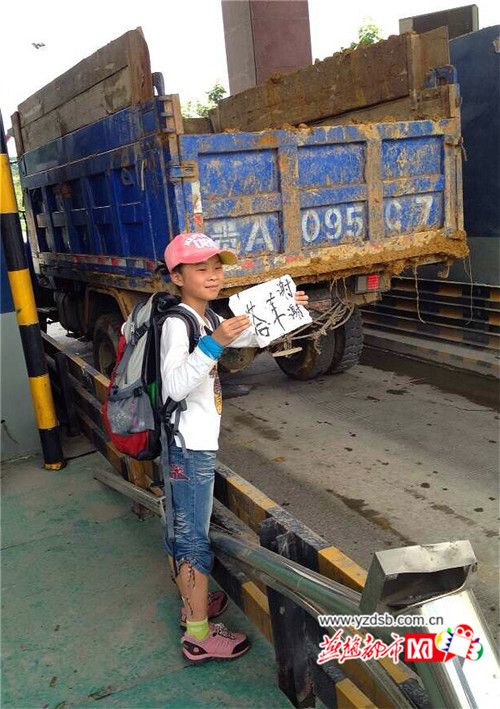 Liu Zimo holds a sign: "Free Ride, Thank You" at the entrance of a high-speed way. [Photo: yzdsb.com.cn]

Liu Zimo, a 9-year-old girl from Handan, central China's Hebei province, experienced a special tour in her summer holiday.
Walking on foot or hitch-hiking, she and her father toured 7 provinces and cities including Henan, Hubei, Hunan, Guizhou, Sichuan, Chongqing and Shanxi.
The girl independently completed the 4000 kilometer-long journey, with her father just playing the role of her bodyguard and supervisor to guarantee her safety.
The idea for the independent journey came from the girl's parents. Both of them are frequent travellers and their daughter has picked up on the hobby.
The young girl says she is especially curious about China's remote mountain areas.
They made plans for hiking in the mountainous regions of southwest China's Guizhou Province for their daughter during her holiday.
After careful consideration, they decided to give the girl an opportunity to learn travel skills in a unique way. They let her take the lead for the entirety of the journey: asking directions, buying meals, securing rides and accommodation. Her father did nothing but ensure her safety as she took responsibility for these tasks.
"The plan we made aims to foster her ability of living independently. Everyone must someday grow up and we wanted to witness this first-hand for our daughter." said her father.
On July 5, 2014, Liu and her father started their journey from Handan.
The little girl felt awkward at first as she chatted up strangers for the first time, and timidly looked back for her father several times. Her father, however, says he silently stood by her side and just looked at her with a smile on his face.
"I was so embarrassed when asking for a free ride the first time, but the driver readily agreed!" The girl said gladly.
Her father believes that the growth his daughter experienced on the trip was rapid, saying that despite her initial shyness, "she soon became more confident and was able to bravely chat up strangers and accurately tell them what she needed."
In term of her ride experience during her journey, the little girl said what she feels most is the "positive energy" from strangers.
The girl says she and her father once waited for more than 90 minutes for a ride but "could not find a vehicle to pick us up. The sky getting dark and we almost collapsed. However, a car suddenly stopped beside us. Although the direction we intended to go is opposite of where the driver headed, he insisted on giving us a lift and drove us to our destination." She says they will never forget such random acts of kindness from strangers.
Liu Zimo and her father received such free rides 37 times throughout seven provinces, going a total distance of 4000 kilometers during their journey.
The biggest challenge of their trip came while they were in Guizhou Province. The girl suddenly developed a high fever. Her father made plans to buy train tickets to return home. However, she said she was determined to complete their journey.
Liu and her father returned home safely on July 29.
Her father says their next holiday destination may be Southeast Asia.