Huang Yuanyao, a 14-year-old girl who lives in Southwest China's Guizhou province, suffers from a rare disease which means that she can't remember anyone - other than family members - even if she has just seen them. For her, every encounter with a non-family member represents the first time she meets that person.
Huang could not walk or eat anything other than milk until the age of one year and seven months. And she only managed to stand up at the age of about five.
In 2008, when she was already 8, she still could not speak, and was incontinent. She was taken to the hospital and was diagnosed with phenylketonuria (PKU), a rare disease with only about 60 confirmed cases in China. The doctor said she could have been cured if she had been a little younger.
It took Huang 3 to 5 months to remember where the toilet was in her home, and she was unable to remember her way back home even if she was only about 50 meters away.
These days, she rarely manages to utter a complete sentence, and usually only says things such as "Dad", "Mom", or "dinner is ready".
But she loves to listen to the music and dance.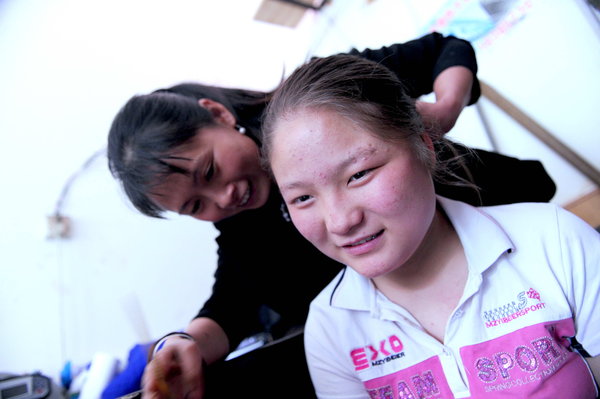 This photo taken on April 19, shows Huang Yuanyao's mother combing her daughter's hair. Huang has a rare disease which means that she can't remember anyone - other than family members - even if she has just met them. [Photo/CFP]