Yu Heqing has set himself apart from the other artists who perform in the streets in Guangzhou by taking an idiosyncratic approach.
The guitar is not an unusual instrument but Yu Heqing plays it in a unique way, standing on his head in a busy street in Guangzhou, Guangdong province.
When he first came to Guangzhou from his hometown in the Guangxi Zhuang autonomous region, in 2010, he found it hard to find a job and had to live by rag-picking, until he saw some artists who sang in the street. "I thought maybe I can do something different," he said.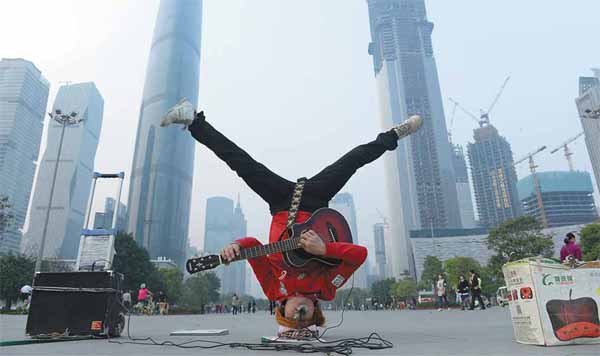 Yu performs in Huacheng square, Guangzhou. He used to rag-pick here when he first arrived in the city. Photos by Xia Shiyan / for China Daily
Yu, whose fingers had never touched a string before, bought a secondhand guitar for 100 yuan ($16.10) and practiced first by leaning upside down on a wall. "At first it was only minutes", he said with a smile. Now he can stand on his head for one or two hours singing, with both legs waving with the rhythm.
He now owns a set of unique musical instruments, too, made purely with his own hands. His voice box, which is comparable in size to a suitcase, is wrapped to a small cart; he used the handle of an umbrella to fix the microphone, so he doesn't have to hold it. Now all he needs to do is put the microphone to his mouth.
Currently he rents a 6-square-meter room with nothing but a small bed and a small table inside; he also needs to take several subway lines to reach commercial places that are suitable for his performance. "My steps cover almost all points," he said, pointing to a roadmap of Guangzhou subway.
But he thinks he is lucky because in 2011 he was invited to take part in the China Talent Show, a national TV program that made him famous almost overnight. Every time he sings, since then, he will be recognized by people.
Yu has a dream of singing his own songs one day and issuing a record of his own. "The dream might be far away but I will make it step by step," he said. "To never give up - that is the key to my life."