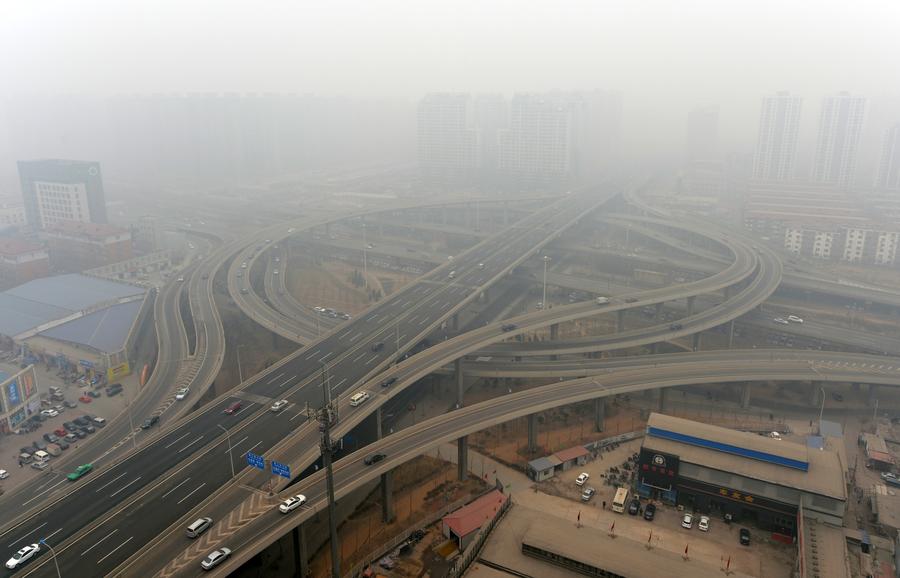 An overpass is seen through smog in Shijiazhuang, capital of north China's Hebei Province, Feb. 23, 2014. China's top meteorological authority, National Meteorological Center (NMC), on Sunday continued to warn of smoggy weather that has battered parts of China for days. Smog will persist from Sunday morning till Monday morning in Beijing and Tianjin municipalities, as well as parts of Hebei, Shandong, Henan, Shanxi and Shaanxi provinces, the NMC said. [Photo/Xinhua]

BEIJING - China is taking measures to control air pollution, including limiting vehicles on the road and suspending factory production, as smog persisted in many areas for the fourth consecutive day.
North China's Shijiazhuang, capital of Hebei Province, went on orange alert for smog, the second highest, early Sunday morning, and an emergency response initiated.
The emergency response cuts private vehicles in use by 20 percent based on the last digit of the license plate. Vehicles with last plate digit of 1 or 6 must be off the road in urban areas on Sunday.
Beijing went on orange alert on Friday for the first time. Manufacturing plants in the city have suspended or cut production, building work is halted, and no barbecues are allowed.
Thirty-six enterprises have suspended production, another 75 reduced their output since Friday,according to Beijing Municipal Commission of Economy and Information Technology.
At a construction site on the north side of Xinhua East Road in Tongzhou District in Beijing, construction work has been suspended for the third consecutive day. Reporters could see no trucks with construction waste or bare earth at the site.
A worker said work had been halted after receiving the smog alert Friday morning.
Barbecue stands near Beijing's Minzu University of China were advised to close by staff from the Ministry of Environment Protection, according to a vendor.
The city's road sweepers have also extended their working hours and frequencies since Thursday.
"Besides road sweeping, we've also increased road spraying and cleaning work." said Liu Yi, a driver of a sprinkler.
Zhang Zengshou, general manager of Beijing Jinyu Concrete said the company had suspended production in Tiancun and Bulangni.
"The capacity of the suspended works both exceed 1.5 million cubic meters. They are the main production stations of our company, but we have followed the city's regulation and shut them down," Zhang said.
Physical education classes, outdoor exercise and sports meets at kindergartens, primary and high schools have also been called off.
Neighboring Tianjin Municipality has issued a yellow alert for the third consecutive day, suspending earthwork at construction sites and increasing road spraying.
According to the Ministry of Environmental Protection, almost all of north, east and central China are suffering. Beijing and the provinces of Hebei, Shanxi, Shandong, Henan and Liaoning reported severe smog.
In respond to the pollution, the Ministry said on Sunday said that it has sent 12 inspection teams to Beijing, Tianjin, Hebei and surrounding areas to check the response to the pollution.
According to the ministry, the teams will review the local government response to the pollution and their implementation of September's central government action plan.
They will inspect major polluting industries such as steel, coal chemicals, glass and cement and check construction sites.
Violations found by the inspectors will be publicized, according to the ministry.
China's meteorological disaster alerts are categorized as blue, yellow, orange and red in order of increasing severity.
| | | |
| --- | --- | --- |
| | | |
| | | |