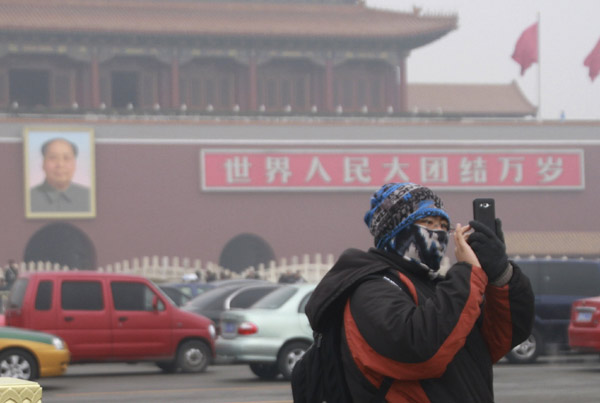 A visitor takes a picture at the Tiananmen Square amid the heavy smog in Beijing, Feb 20, 2014. [Photo/Xinhua]
BEIJING - Beijing cranked up its pollution alert a notch higher to orange on Friday as heavy smog is expected to linger over the Chinese capital for at least another three days.
Under the newly raised alert, children and the elderly are advised to stay indoors while local residents are encouraged to use public transportation. Some factory activities will also be put on hold.
Beijing, its neighbors Tianjin and Hebei province, as well as central and western Shandong province can expect heavy air pollution to linger for a week, according to a joint weather forecast issued by the China Meteorological Administration and the Ministry of Environmental Protection.
On Thursday morning, PM 2.5 readings in those regions exceeded 115 micrograms per cubic meter, far above the 25 micrograms level considered safe by the World Health Organization.
The CMA expects the smog to last for a week as no cold front is in sight to help disperse it.
The Chinese capital on Thursday issued a yellow alert for heavy air pollution, the first of its kind since the municipal government issued one last October. Back then it put into effect an emergency response system.
The air quality index at most monitoring stations in the city's downtown areas exceeded 250 at 9 p.m. on Thursday, according to the Beijing municipal environmental monitoring center.
Beijing has a four-tier alert system, using blue, yellow, orange and red to indicate the air pollution level.
A red alert indicates the most serious air pollution (AQI above 300) for three consecutive days. An orange alert indicates heavy to serious air pollution (AQI between 200 and 300) alternately for three consecutive days. A yellow alert means severe pollution for one day or heavy pollution for three consecutive days.
A red alert requires traffic to be cut with alternate driving days for even- and odd-numbered license plates, and schools to be suspended. Industrial plants will be closed or told to reduce production if an orange alert is issued.
Despite a spate of control measures, Beijing and neighboring cities, mainly in Hebei province, are prone to frequent air pollution.
The environmental protection ministry said on Thursday that 74 major Chinese cities that are monitored had on average 62.4 percent of days in January which failed to meet quality standards.
The key air pollutants were PM2.5 and PM10, in which PM2.5, airborne particles smaller than 2.5 microns in diameter, was the primary pollutant in 92.5 percent of the days failing to meet air quality standards.
The 10 cities with the most serious problem were Xingtai, Shijiangzhuang, Baoding, Handan, Hengshui, Jinan, Tangshan, Chengdu, Xi'an and Wuhan -- seven of which are located around Beijing.
Since last year, the frequent occurrence of smoggy days has prompted authorities to take serious action in tackling air pollution as the issue has become a main source of complaints and frustration among urban residents.
Last week, Beijing municipal authorities faced a public backlash over its inaction to heavy smog as it only issued a blue alert.
The business channel of China Central Television (CCTV) on Saturday questioned why the government failed to initiate an emergency response.
"Beijing municipal government, don't pretend to be blind in the fog," the channel said via its account on the Twitter-like Weibo.com. "The government should not shun its responsibility or turn a blind eye to the smog."
To address public concerns, the government aims to cut the density of inhalable particulate matter by at least 10 percent in major cities by 2017.
In a meeting earlier this month, the State Council, the cabinet, named the reduction of PM2.5 and other pollutants in smoggy cities as the key task in the fight against air pollution.