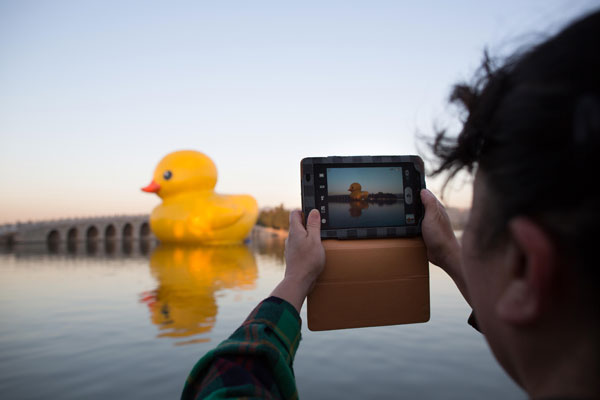 A visitor takes a picture of the giant rubber duck on display at Summer Palace, Sept 26, 2013. The 18-meter duck will be on display at the park until Oct 26, after finishing its tour at the Beijing Garden Expo Park on Sept 23. [Mao Yanzheng/Asianewsphoto]
BEIJING - An 18-meter-tall rubber duck begins to taste a touch of ancient Beijing at the Summer Palace on Thursday.
After its 18-day show at the International Garden Expo Park in the city, the duck, the brainchild of Dutch artist Florentijn Hofman, was reinflated on Kunming Lake within the royal palace in northwest Beijing.
It will be on display until October 26.
Made with over 200 pieces of rubber, the duck is part of activities that prelude Beijing Design Week, which runs from September 26 to October 3.
"Not only children like it. The core value of the rubber duck is to bring back childlike innocence to us, especially weary adults," said Zeng Hui, deputy head of the Beijing Design Week organization committee.
Nicknamed by Chinese fans as "giant yellow duck," the exhibition attracted many visitors to the expo park. During September 19 to 21, China's Mid-Autumn Festival holiday, 196,000 visitors went to see the duck, according to organizers.
Before arriving in Beijing, the rubber duck traveled to 13 cities in nine countries.