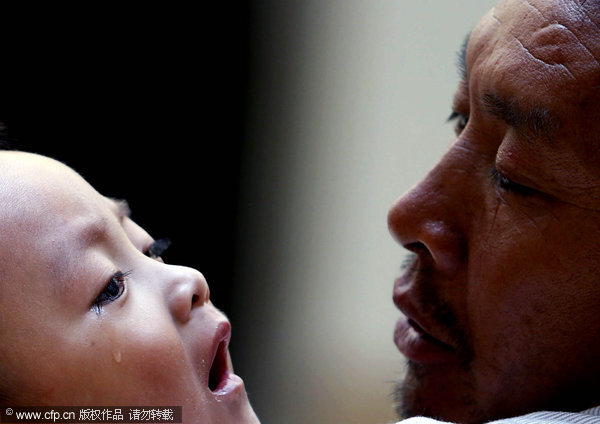 Chen Wencai looks at his grandson at a hospital in Haining, Zhejiang province, Sept 3, 2013. [Photo/CFP] 
A man was sentenced to three and a half years for robbing a bank to get money for treating his 1-year-old son, who almost died from choking on a cherry pit and is still in need of money for treatment.
The baby choked on May 7 in Haiyang city, Zhejiang province and had to have the pit removed at a hospital in Hangzhou city. The delayed treatment and oxygen deprivation caused by the choking left the baby in ICU for one month, depleting the father's entire savings.
The desperate man took a kitchen knife and wrench to rob a bank on June 11. He was sentenced to prison on Aug 28. The heart-broken mother ran away from home.
The grandfather Chen Wencai and his wife are taking care of the child, who suffers from hydrocephalus and needs about 200,000 yuan to recover, according to Zhejiang Sian International Hospital.
The grandfather makes 180 yuan a day by working for nine hours at a construction site. Good Samaritans donated 70,000 yuan to the baby, local media reported.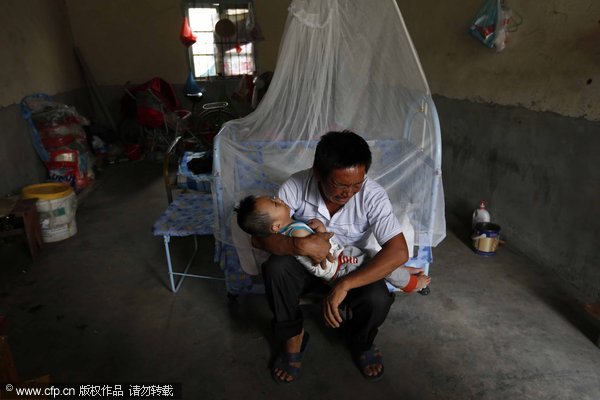 Chen Wencai carrying his grandson in a rented room in Haining, Zhejiang province, Sept 3, 2013. [Photo/CFP]