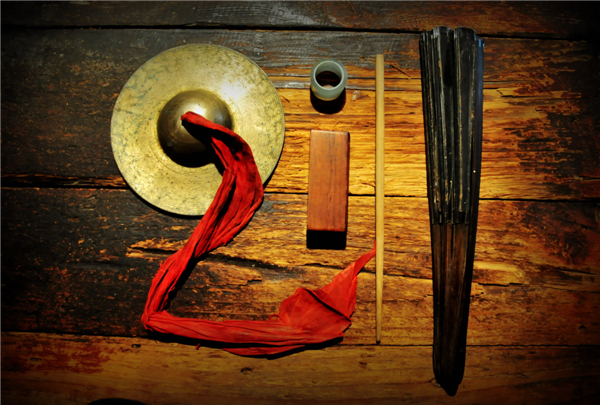 Fuzhou storytelling, a time-honored performance art, is accompanied by five basic instruments: a chopstick, a cymbal, a small piece of wood, a jade thumb-ring and a folding paper fan. [Photo by Zhang Bin / for China Daily]
Fuzhou storytelling has been called a living fossil of ancient Chinese art and Chinese rap. It is popular in Fujian and Taiwan provinces and other Southeast Asian countries where people can speak the Fuzhou dialect.
One beat of the gravel on the wooden table and the sounds of cymbals signal the beginning of an age-old storytelling performance. In a heavy Fuzhou dialect, an elderly artist starts telling stories on the podium. His audiences are mostly retirees and senior citizens, who have been ardent fans of the ancient art. Fuzhou storytelling, which can be traced to the Song Dynasty (AD 420-479), has been listed as a national intangible cultural heritage since 2006. But the art is fading as the number of storytellers has shrunk from 500 to 30 in recent decades, and all of them are more than 50 years old. The Jade Leaf Storytelling Theater is among the few stages still in operation. There are various kinds of Fuzhou storytelling, including tales related to history, swordsmen, righteous government officials and daily life.