Even the 10th-highest temperature in China on Wednesday was over 41 degree Celsius despite the day marking the beginning of autumn according to the 24 solar terms of the Chinese lunar calendar.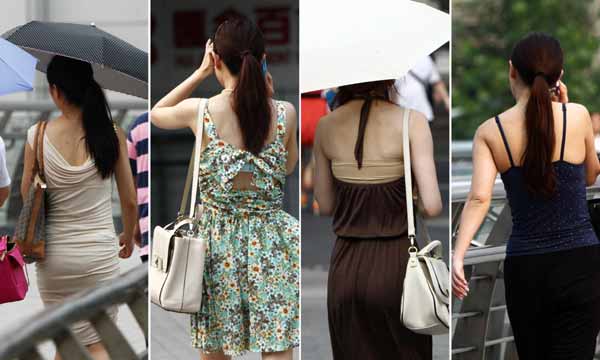 A combination photo shows women in clad in cool dress in Shanghai municipality on August 7, 2013. The temperature reached 40.8 degrees Celsius on Wednesday, the beginning of the autumn according to the 24 solar terms of the Chinese lunar calendar. [Photo/Xinhua] 
The official website of the National Meteorological Center (NMC) shows Fenghua City of East China's Zhejiang province topped the charter, measuring 43.5 degree Celsius at 2 pm, beating the No.1 hot temperature of 43.2 degree Celsius from Lishui of Southwest China's Yunnan province 10 years ago.
The hourly –updated chart of top ten temperatures featured five other cities from Zhejiang, three from Southwest China's Sichuan province and a district subordinated to Chongqing municipality at 2 pm, with Yuyao City of Zhejiang at the bottom measuring 41.2 degree Celsius.
A lingering heat wave has plagued most parts of China since the beginning of July, with continuous 40-plus degree Celsius temperatures daunting more than 50 cities nationwide in 19 provinces. More than 10 people have died of heatstroke in Shanghai, where four red high-temperature alerts have been issued this summer (editor's note: The red alert means the temperature will reach above 40 degree Celsius with 24 hours).
Top ten high temperatures at 2 pm August 7, 2013, Wednesday
| | | | |
| --- | --- | --- | --- |
| 1  | Fenghua  | Zhejiang (E China)  | 43.5  |
| 2  | Xuyong  | Sichuan (SW China)  | 41.9  |
| 3  | Anji  | Zhejiang (E China)  | 41.7  |
| 4  | Xingwen  | Sichuan (SW China)  | 41.4  |
| 4  | Jiangjin  | Chongqing (SW China)  | 41.4  |
| 4  | Shengzhou  | Zhejiang (E China)  | 41.4  |
| 4  | Shaoxing  | Zhejiang (E China)  | 41.4  |
| 4  | Ningbo  | Zhejiang (E China)  | 41.4  |
| 4  | Hejiang  | Sichuan (SW China)  | 41.3  |
| 10  | Yuyao  | Zhejiang (E China)  | 41.2  |