It might not be the best hobby for a family man, but in a yard near Yamalik Moutain in Urumqi in the Xinjiang Uygur autonomous region - one, a man raises more than 80 wolves in the wilderness.
Yang Changsheng, 68, began raising the predators six years ago. At first, nobody supported his "career".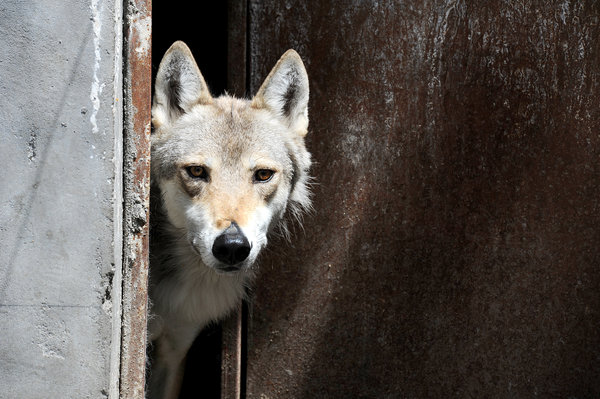 A wolf stares out into Wild Wolf Valley in Urumqi, Xinjiang, July 19, 2013. The wolf was once bitten by a fox and he waited for days for revenge and bit one of the fox's legs off. [Photo/CFP]
But Yang fell in love with this animal when visiting a friend who had a wolf cub in May, 2007. The friend gave him the wolf and since then, he has grown a considerable pack.
"Wolves are intelligent and loyal. They are nice to you as long as you treat them well," said Yang.
In 2008 he applied for a license to raise wolves and now he has an area of more than 20 hectares with more than 80 wolves. It is now the biggest wolf raising base in China, dubbed "Wild Wolf Valley".
His daughter Yang Jie and her husband also help him with the work. Yang built a holiday resort where people can visit the wolves. Besides, he sells teeth, fur and specimens of the animal.
Now, they share a wish to enroll some college graduates who study wolves. "The wolves need more professional care," said Yang Jie.