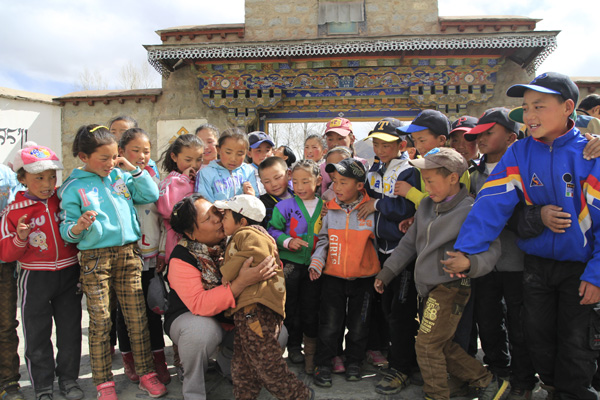 Gyalzur Tendol has been an orphan since she was very small. 
Raised in Europe, an ethnic Tibetan orphan returns to her roots to provide a home for young homeless, Palden Nyima reports in Lhasa.
Operating an orphanage is a duty or mission for some but, for Gyalzur Tendol, it is a matter of repaying love and pursuing true happiness. "Economic needs are not our main focus; instead, we focus on ensuring the children feel at home with parental love, trust, and unity", says the 60-year-old, who is an ethnic Tibetan. An orphan from an early age, Gyalzur Tendol was adopted and reared in Germany and Switzerland. She says that she had an ordinary childhood in the West.
"I finished my studies as a surgery assistant. My income allowed me to have a very comfortable life, but we felt empty inside our hearts, so we returned to Tibet to seek real happiness," says Gyalzur Tendol, who, along with her Swiss husband (also an ethnic Tibetan), returned to Tibet for a few visits before the 1990s.
It was during those visits, when she encountered orphans on the street, that Gyalzur Tendol found her calling.
Along with her husband and with support of visiting officials from the Tibet autonomous region to Switzerland, she founded the Gyalzur Tendol Orphanage in 1993 with seven children in Lhasa.
The first private orphanage run by a foreigner in Tibet, it has been home to 108 and orphans and one-parent families in the past two decades.
In 1994, a second building was added adjacent to the existing one. A third project was established in 1997 in Shangri-La county, Yunnan province.
To date, the population in her three orphanages has grown to some 300. The youngest orphan is only 2 years old; the oldest is already 32.
Forty-four children from the orphanage have found jobs.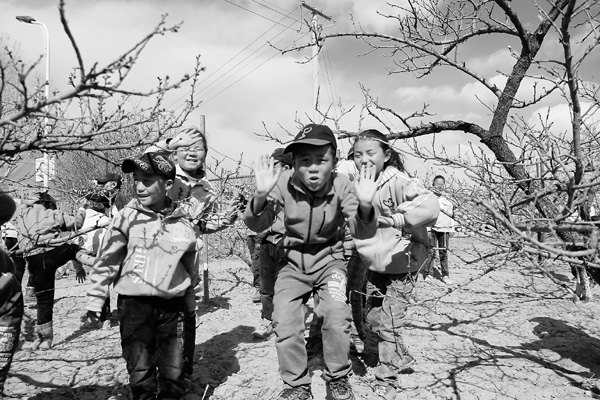 The population of Gyalzur Tendol's three orphanages has grown to some 300 since she began her work in 1993, with youngsters from all over China. Photos by Wang Huazhong / China Daily 
"I spent 19 years in the orphanage. I consider Gyalzur Tendol and her husband as my parents for they gave me love and education," says Gesang Gyaltso, who works as a doctor at Nagqu prefecture. He often visits the orphanage, bringing many gifts.
"I'm thankful that I have become independent. I work as a Tibetan Medicine doctor, and have a happy life with my income", he says.
Located in Tibet, it is not just a home for local homeless children but for youngsters from all over China. The resident children represent some 10 ethnic groups.
"I'm a mother and friend of these children, all of whom are taught to respect and not discriminate against each other. This is my Chinese dream, and I'm proud of it", Gyalzur Tendol says.
With many children of all ages, having just two foster parents providing care indicates excellent organization. From dormitories to toilets, everything is extremely clean and neat.
"I'm happy here in the orphanage because it is our home", says Phurbu Chungdak, a 12-year-old boy, a fourth grader in the primary school.
Gyalzur Tendol's priority is to provide the equivalent of parental love.
"They are my children, I have the obligation to raise them, no matter what our situation is," she says, stressing that she does not simply rely on outsiders to run her orphanage.
Most of her donors are private one-off donors from 17 different countries. The orphanage had never received funds from any government until 2010, when it accepted a donation from the Chinese central government.
"I have witnessed China's recent economic boom. Thanks to the central government, Tibetans and all other ethnics in China no longer suffer from hunger or basic life needs", she says.
With fast growth, people have become rich materially but lost some of their human quality, she says, a gap she wants to fill.
"It's a big mistake to just accept any kind of kids, but find out what actually makes children suffer is the key," Gyalzur Tendol adds.
Some orphanages nearby have been asked to close because their accounts are suspicious, but not Gyalzur Tendol's, which pleases her and makes her proud.
"Trust and doing a good job are key reasons why we gain support from government authorities, sponsors and everyone", she says.
She says that her two sons have good businesses as well as good hearts. When Gyalzur Tendol and her husband get old, their two sons will take charge of the orphanage.