Zhan Yi and Wu Tengli, a deaf couple from Hefei, capital of East China's Anhui province, have started a successful business selling hand and footprint molds.
"When my daughter was a baby, we wanted to make her some hand and footprints. Then we found that there were few hand and footprint makers. Its services are scarce. We thought opening this business would be an opportunity to make money. Later we opened our online shop selling hand and footprints," Wu said.
"During the first several years of running our business, we encountered a lot of difficulties. But we refused the basic living allowances for handicapped people offered by our community. We believe that we can stand on our own feet," she said.
The couple met in 1999, when they were both in a class for special needs education in Changchun, capital of Northeast China's Jilin province. After graduation, they went back to Hefei and got married. Later, they gave birth to a healthy daughter.
The local community is helping them receive a subsidy for handicapped business starters. May 19 is National Day of Assisting Disabled Persons.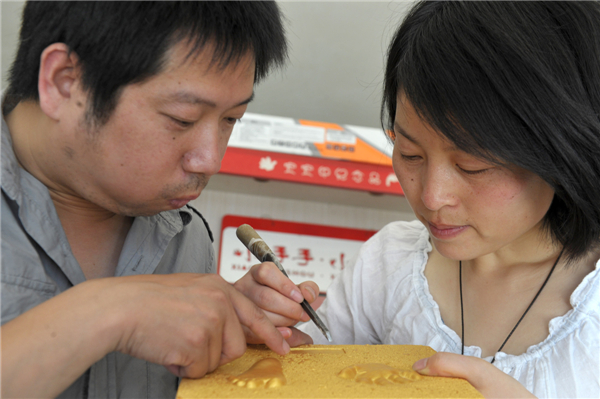 The couple make hand and footprint products at their shop in Hefei, capital of East China's Anhui province on May 14, 2013. [Photo/Xinhua]