The Yongding Tower, one of the main attractions of the Ninth China (Beijing) International Garden Expo held in Beijing's Fengtai district, was lit up on Sunday night as the Expo is fast approaching.
The tower, partly destroyed by a blaze on April 9, is still undergoing restoration. CRI reported Sunday that officials from Fengtai district said the tower will also not be ready in time for the expo's official May 18 opening, but "the normal operation of the expo will not be influenced by the Yongding Tower fire."
The Garden Expo is scheduled to run through until November 18. During the period from April 5 to April 13, its trial run period, it will allow selected groups of visitors to take a look at the expo, so as to check whether the facilities can cope with a large number of tourists.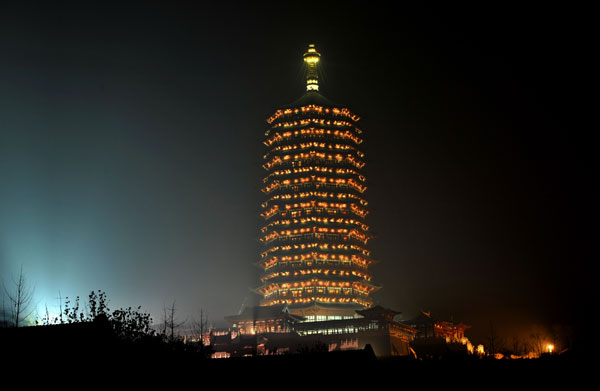 The Yongding Tower was lit up on the night of May 5 as the Expo approaches. It is one of the main attractions of the Ninth China (Beijing) International Garden Expo, which is due to open on May 18, 2013 in Beijing's Fengtai district. [Photo by Li Wenming/Asianewsphoto]