A total of 2,502 students relocated and resumed classes on Thursday in Tianquan county, Southwest China's Sichuan province, 13 days after the area was hit by a 7.0-magnitude earthquake.
The primary school in Tianquan had 2,502 students in 40 classes of six grades. It is the largest primary school in the county.
The students will resume classes in a prefabricated school house which has 49 classrooms spread over 3,283 square meters. The house is jointly sponsored by the Communist Youth League of Hunan province, Hunan Youth Development Foundation and several companies.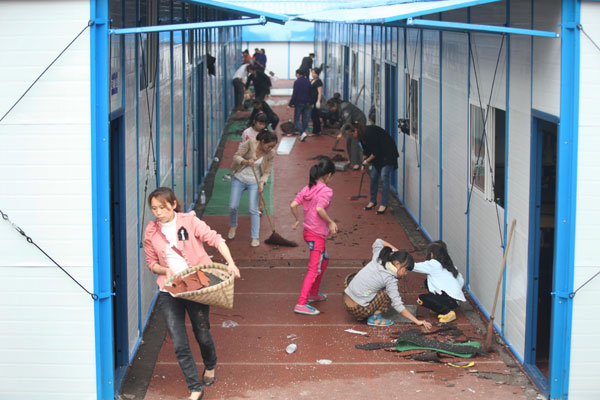 Students, parents and teachers joined in cleaning the prefabricated school house in Tianquan county on May 1. A total of 2,502 students from the primary school resumed classes in the prefabricated houses on May 2. A 7.0-magnitude earthquake hit Tianquan county, Ya'an city, China's southwestern Sichuan province on April 20. [Zhang Xiaoli/Asianewsphoto]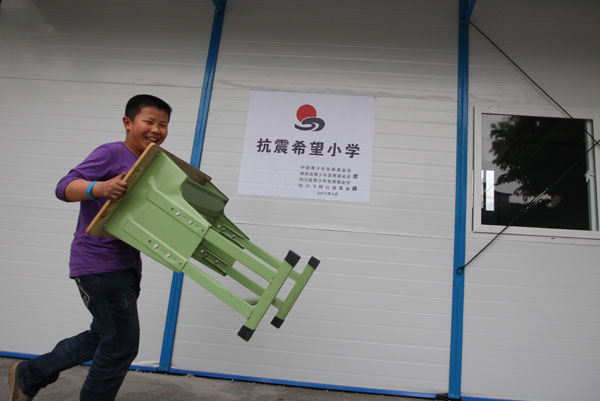 A student in the primary school in Tianquan county carries a table to a prefabricated school house on May 1. A total of 2,502 students from the school resumed classes in the prefabricated houses on May 2. [Zhang Xiaoli/Asianewsphoto]