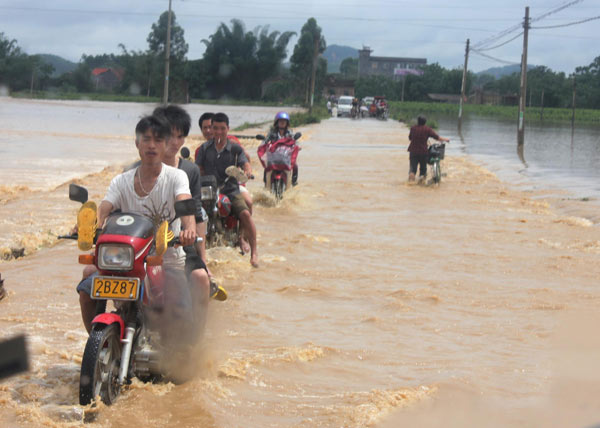 Motorcyclists wade through a flooded street in Yulin, Guangxi Zhuang autonomous region, April 30, 2013. [Photo/Xinhua]
NANNING - Floods and landslides triggered by heavy rain have claimed six lives while affecting more than 420,000 people in south China's Guangxi Zhuang Autonomous Region, the local government said Monday.
The rain, which started Monday morning, has hit multiple counties, according to a statement from the regional department of civil affairs.
The statement said landslides and building collapses triggered by the rain had killed six people and injured another 14 as of 7 p.m. Monday.
The rain has displaced 17,200 people, the statement added.
Over 12,000 hectares of farmland were affected and a total of 270 houses collapsed, it said.
An initial investigation showed that direct economic losses caused by the rain have amounted to over 69 million yuan (11 million U.S. dollars).
Local authorities are carrying out disaster relief work and relocating residents.