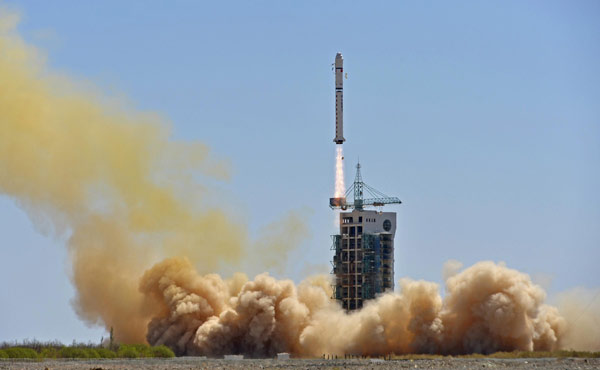 The Long-March 2D rocket carrying the Gaofen-1 satellite – an observation satellite developed by China to provide high-resolution pictures – blasts off from the Jiuquan Satellite Launch Center in Northwest China's Gansu province, on April 26, 2013. The rocket also carried three other satellites developed by Ecuador, Argentina and Turkey. [Photo/Xinhua]
China sent high-definition earth observation satellite "Gaofen 1" into space shortly after noon on Friday, marking the start of a program that will substantially improve its capabilities in disaster relief, resources and environment survey.
The satellite unfolded its solar panel in orbit at 12:39 pm after its carrier -- a Long March-2D rocket -- was launched from northwest China's Jiuquan Satellite Launch Center at 12:13 pm Beijing time, announced the State Administration of Science, Technology and Industry for National Defence (SASTIND).
Developed by the China Academy of Space Technology, Gaofen-1 will be followed into space by another four of five satellites before the end of 2016 to form the high-definition earth observation system (HDEOS).
By improving the precision and timeliness of data provision, the satellite could play an important role in disaster relief in a country that is a frequent sufferer from such incidents.
Disaster relief work following the quake pointed to a lack of precise and timely data, despite the help of several remote sensing satellites and the Beidou positioning system. Gaofen 1 can fill the gaps for more reasonable policy making.
It could also improve land resources surveying, environmental monitoring, geographical mapping as well as precision agriculture.
The major users of the satellite will be the Ministry of Land and Resources, Ministry of Environmental Protection and Ministry of Agriculture, said the SASTIND, adding that the launch is of great significance in improving China's satellite development level and increasing its self-sufficiency in high-definition remote sensing data.
There are over 50 countries to date that own or operate earth observation satellites, and the data they collect is widely used for economic and social activities and in other science research fields.
China set up the special project for the HDEOS development in 2006. It received government approval and was initiated in 2010. According to the project, the country will establish an earth observation system capable of great precision in time, space and spectral aspects, and integrate it with other measures to build an observation system with all-weather, round-the-clock and global coverage.