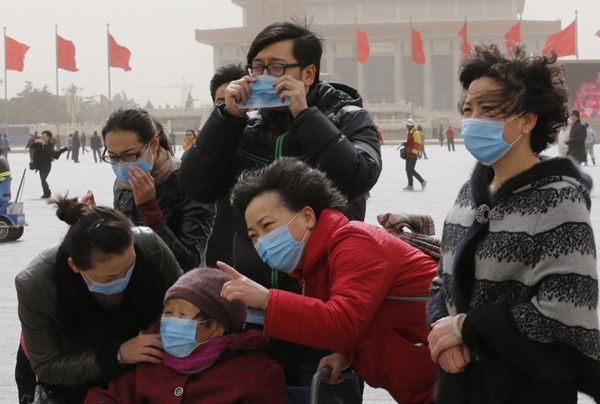 Tourists wearing masks visit Tiananmen Square in Beijing March 9, 2013. A cold front brings strong wind as well as sand and dust to Beijing on March 9. [Photo/Agencies]
BEIJING - Strong winds dispersed Beijing's lingering haze, but ushered in dust storms and a sharp temperature drop on Saturday.
The Beijing Meteorological Station on Saturday morning forecast that strengthening winds would bring strong breezes to gales with dust to Beijing, causing temperatures to drop 7 to 9 degree.
This is the second bout of dusty weather to hit Beijing this year, following the first on Feb 28.
The wind and dusty weather changed the capital's major air pollutant component from PM2.5, airborne particles measuring less than 2.5 micrometers in diameter, to PM10.
The average density of PM10 rose sharply starting from 9 am Saturday, with the peak density reaching 1,000 mg per square meter around noon in western parts of downtown Beijing.
The capital's air quality was measured at moderate to dangerous levels, with inhalable particles as the major pollutants on Saturday, according to an air quality report released by the environmental monitoring center of the Beijing Municipal Environmental Protection Bureau.