Three people were killed and another 13 injured in a pile-up collision on an expressway in Central China's Henan province on Wednesday morning, the local government said.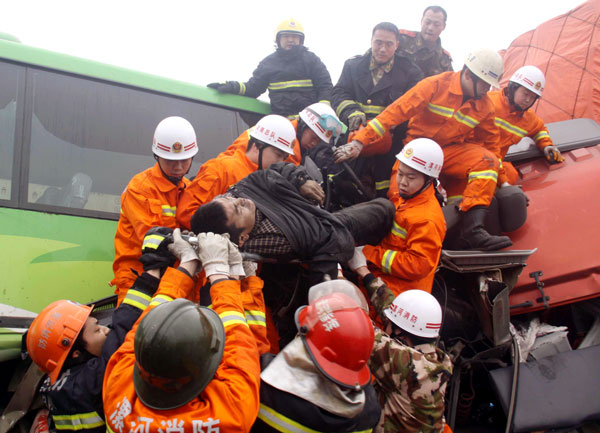 An injured man is rescued after a pile-up on the Beijing-Hong Kong-Macao expressway near Luohenan station in Luohe city, Henan province, Wednesday morning. [Photo by Kang Fei/Asianewsphoto]
The pile-up, involving more than 40 vehicles, happened around 7:35 am on a section of Jinggang'ao (Beijing-Hong Kong-Macao) Expressway in Henan province. The accident killed three and injured at least 13 others, Luohe Government said.
The fire brigade of Luohe city dispatched six fire trucks and 32 firefighters to the scene to investigate the accident and clean up the expressway.
"Rescuers have pulled out 16 people who were trapped in the vehicles. One of them died on spot and another two died in hospital," said Li Yamin, deputy secretary general of Luohe Government.
"Heavy fog blanketed the area, and the visibility was about 20 meters when the accident occurred. Initial investigation showed the cause of the accident was due to heavy fog," said Li.
The accident caused a traffic jam, which was at least 5-km-long, according to drivers in the area.