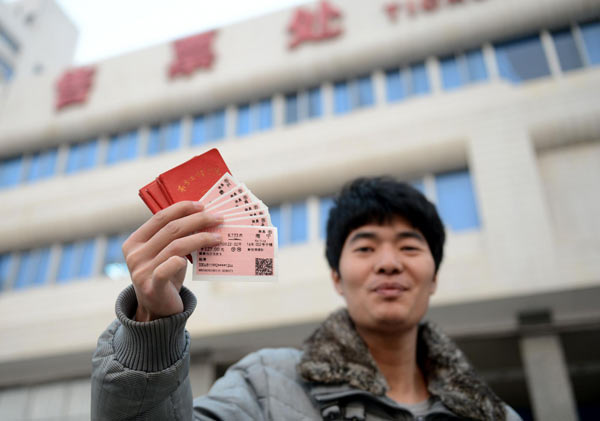 A student shows train tickets and students cards he used to buy tickets at a railway station in Nanchang, East China's Jiangxi province, Jan 9, 2013. [Photo/Xinhua]
Train stations are instituting seasonal measures on Monday, Jan 7, 2013 to cope with large numbers of travelers during the upcoming Spring Festival holiday.
Starting from Monday, passengers will be able to buy train tickets up to 20 days ahead of their preferred departure time, lengthening the amount of time from 12 days.
Spring Festival, also known as the Chinese Lunar New Year, will begin on February 10 this year.
The busiest travel period will likely span from January 26 to March 6, according to the Ministry of Railways.
More than 224 million passengers are expected to travel via trains during the period, a year-on-year increase of 4.6 percent, according to the ministry.
Spring Festival is China's most important holiday of reunion, with most Chinese traveling to their hometowns to spend time with their relatives for the occasion.