Zhang Xuelin, a farmer from Jinan, Shandong province, tries to fly his homemade plane, attracting hundreds of villagers on Nov 29, 2012.
After two hours, Zhang failed to send his plane into the air. Zhang spent almost a year making the plane, which is 3.4 meters long and weighs more than 230 kilograms.
Zhang said no matter what the result is, he must try to fly it. "Though simple, it's my dream, better than playing cards," he said.
Zhang has long cherished the dream. He dropped out of school at 12 but he has always been fond of studying all kinds of aircrafts.
Years ago, Zhang got the idea of making a plane when he saw news online that someone made a plane by himself. He started his project at the beginning of 2012.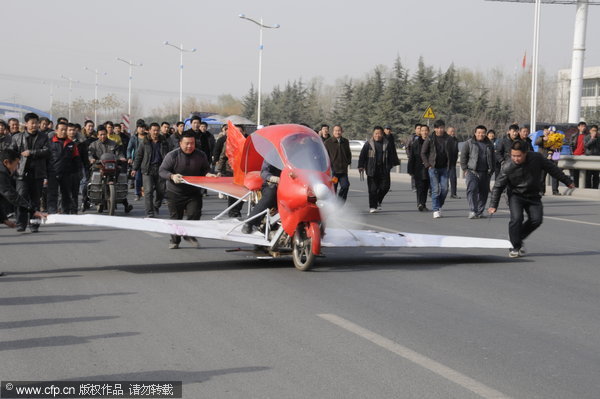 Zhang Xuelin, a farmer from Jinan, Shandong province, tries to fly his homemade plane on Nov 29, 2012. [Photo/CFP]