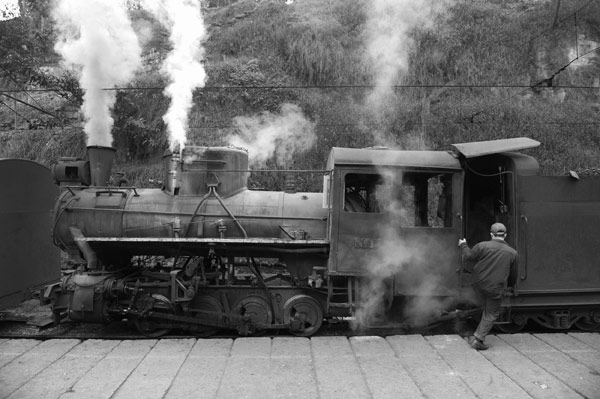 A driver gets on board a steam locomotive after a safety check in a remote Jianwei county, in Southwest China's Sichuan province on March 2, 2012.[Photo by Wang Bin/Asianewsphoto]
A steam locomotive in Southwest China's Sichuan province, built using technologies of the First Industrial Revolution which began in the 18th century, is now the last still-operating steam train on a relatively narrow track of 76.2 centimeters, half the width of normal gauges.
Consequently, it is commonly regarded as a "living fossil" of the Industrial Revolution. The old-fashioned train was manufactured in 1958 for transporting coal from a local colliery and later became the main and only commuting vehicle for residents living along the 19.84-kilometer railway linking Shixi Town in the east and Bagou town in the west.
Despite its complicated operation and centuries-old technology, the train still continues to provide four round trips a day for the locals at a speed of 20 km/h, as the remote places along the railway can not be reached via road, making the train the only commuting vehicle to transport people, daily necessities and even livestock.
Over the past decades, local residents have got used to the existence of the noisy, slow and outdated train and taken it as part of their daily lives. It costs 5 yuan for a whole-journey seat ticket and 3 yuan for a standing ticket.
Nowadays, a lot of visitors from all over the world come especially to take the train, trying to experience what life might have been like back in the 18th century.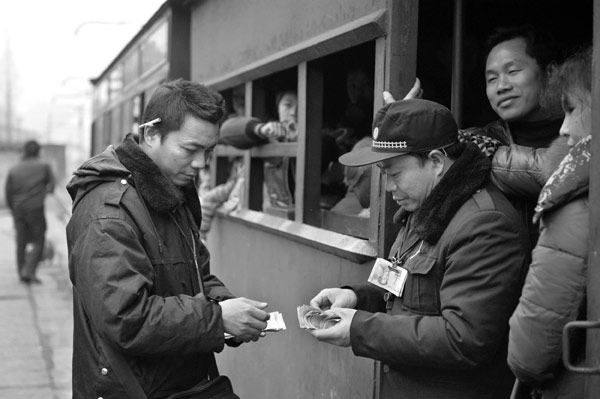 A man buys a ticket from a clerk before boarding the old-fashioned steam train in a remote Jianwei county, in Southwest China's Sichuan province on March 2, 2012. [Photo by Wang Bin/Asianewsphoto]