Zheng Dongfeng, a chief project safety director of China Railway No 20 Bureau Group, has devoted himself to a western desert highway project in Xinjiang Uygur autonomous region since April 2011.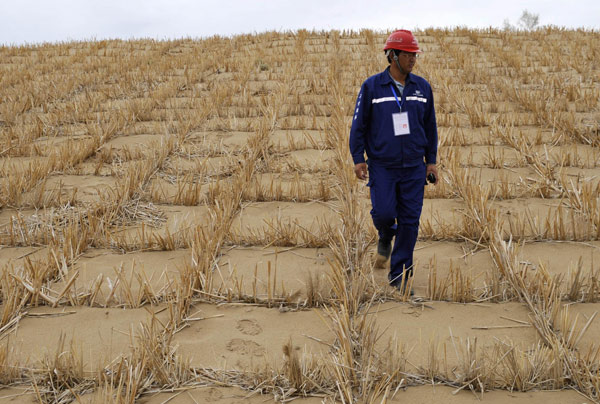 Zheng Dongfeng inspects straw checkerboard barriers in the middle of Gurbantunggut Desert in Junggar Basin of Northwest China's Xinjiang Uygur autonomous region on Sept 20, 2012. [Photo/Xinhua]
To ensure the high quality of the project, Zheng, a Party member, has to spend most of his time at the construction site, where he is frequently exposed to the harsh desert sun.
The highway through the Gurbantunggut Desert - the second largest desert in China - will be the first desert expressway in Xinjiang. To build the highway for the local people, Zheng usually stays at the construction site for a whole day to inspect each detail of the project.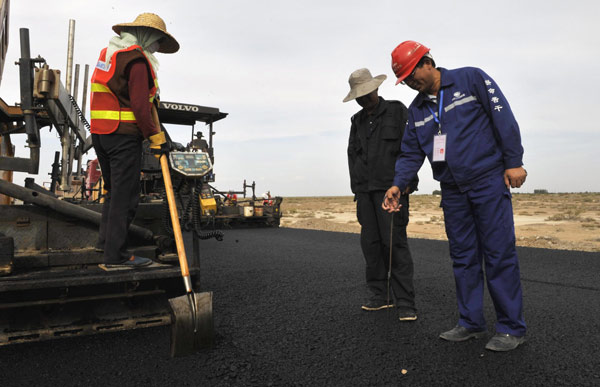 Zheng Dongfeng uses a stick to measure the thickness of newly paved asphalt in the Gurbantunggut Desert, in Junggar Basin of Northwest China's Xinjiang Uygur autonomous region, on Sept 20, 2012. [Photo/Xinhua]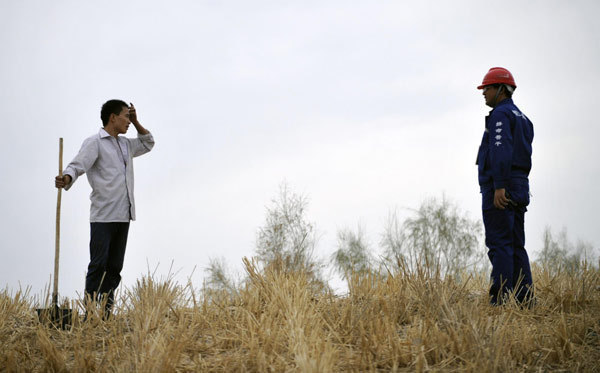 Zheng Dongfeng, right, talks with a worker in the Gurbantunggut Desert, in Junggar Basin of Northwest China's Xinjiang Uygur autonomous region, on Sept 20, 2012. [Photo/Xinhua]