It is difficult to trace who coined the term Chinese Valentine's Day to refer to Qixi Festival, but the introduction of Valentine's Day into China and the growing consumerism are of two of the driving forces behind its renaming.
Hotels, shops, restaurants, and florists are among those who gear up to cope with the booming business. This year the Qixi Festival falls on August 23, the seventh day of the seventh lunar month.
Qixi should be observed with a greater focus on its traditional connotations, said Xiao Fang, a professor at Beijing Normal University.
The Qixi Festival originates from a folk tale about a fairy named Zhinu who marries a mortal named Niulang. The marriage allegedly enraged the Goddess of Heaven, who created the Milky Way to separate them. Supposedly, the pair of lovers are reunited for a single night each year by magpies that fly into the heavens and form a bridge for them to cross.
Although the holiday itself was not celebrated until modern times, the festival was listed as a form of intangible cultural heritage by the State Council in 2006.
"Qixi is not China's Valentine's Day. We did not even have this concept in ancient times," Xiao said. "The story's reunification of Zhinu and Niulang is what has led people to associate it with love."
In any case, on the seventh of the seventh, lovers and romantics will have plenty of gifts to exchange, holidays to plan, and even marriages to register.
Photos taken on Aug 23, 2012.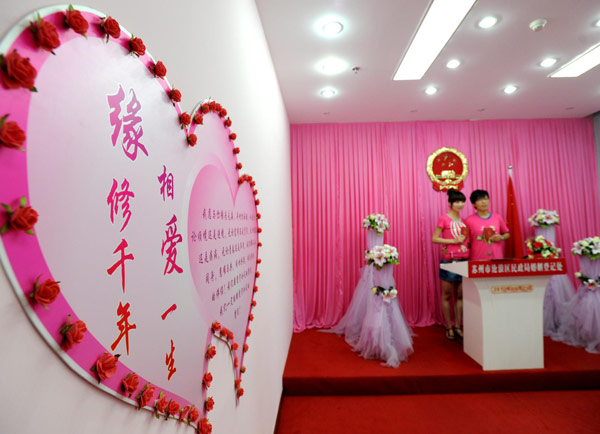 'We are married.' Suzhou, Jiangsu province. [Photo/Xinhua]