TIANJIN - A much expected downpour bypassed Beijing Wednesday but battered the neighboring city of Tianjin, flooding many downtown streets and vehicles.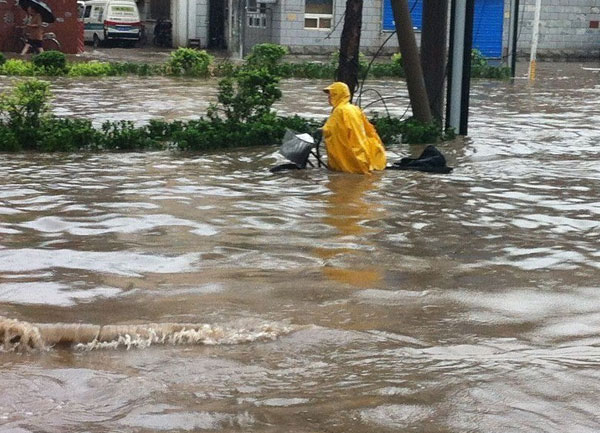 A person on a bicycle is stuck in water up to their waist in the floods in Tianjin, on July 26. [Photo/ynet.com]
As of 11 am Thursday, the maximum precipitation had exceeded 300 millimeters, Tianjin's meteorological center said in a press release.
It said the city proper received an average rainfall of 147 mm, while the outer Xiqing district, one of the worst-battered areas, received 309.8 mm.
The local fire prevention bureau sent 190 fire engines and 1,140 rescuers to help rescue flood stranded vehicles and pedestrians.
The rain had largely stopped by midday, but the center issued another orange alarm at 11:10 am, warning residents of a further rainstorm.
The downpour has paralyzed traffic in downtown Tianjin, drowning many roads. Dozens of vehicles were stranded on Baidi road in Nankai district after their engines died in the flood.
Many pedestrians complained they had to trek in knee-deep water. In some sections of Xianyang Street, flood water was waist deep.
On the badly flooded Friendship Road in Hexi district, five workers kept watch next to sewage wells whose manholes had been removed for faster drainage.
The rain disrupted air traffic at Tianjin's airport, where 20 flights were canceled and 34 delayed.
The first flight, an incoming flight from Shanghai, landed in Tianjin after the rain subsided at 11:32 am, and the first departing flight took off at 12:08 pm, according to the airport's official website.
Railway transportation, however, was largely unaffected, including the express rail link to Beijing, the city's railway authorities confirmed.
Vegetable prices were up at the city's major wholesale markets Thursday. "Each kilo is at least 0.4 yuan - about 30 percent - more expensive than yesterday," said Cui Hongqing, a wholesaler at Hongqi Market.
Cui predicted further price hikes Friday as the rain devastated crops and increased transportation costs.
China's capital Beijing was on guard against heavy rain Wednesday, fearing a repeat of Saturday's mayhem.
Saturday's downpour, which the local weather bureau described as the "heaviest in 61 years", killed at least 37 people - some were drowned in private cars.
Many office workers were allowed to go home early Wednesday for safety considerations, and city authorities bombarded mobile phone subscribers with text message warnings of an imminent downpour.
The much expected rain, however, did not fall in Beijing.
The capital was still overcast Thursday, as the central weather bureau has forecast rain in seven northern China provinces and municipalities, including Beijing, over the coming three days.