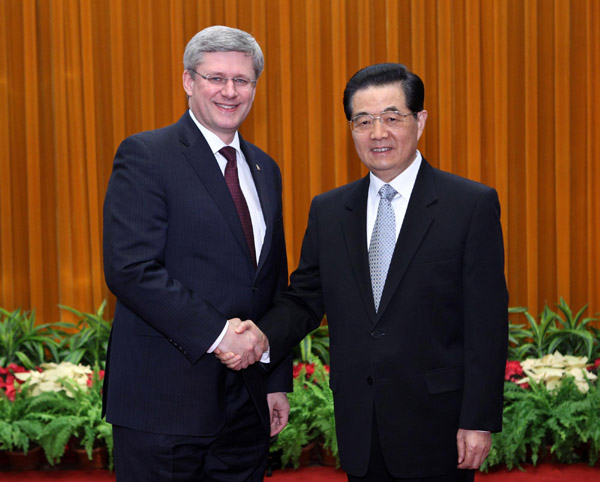 Chinese President Hu Jintao shakes hands with Canadian Prime Minister Stephen Harper before their meeting at the Great Hall of the People in Beijing February 9, 2012. [Photo/Xinhua]
BEIJING - President Hu Jintao and visiting Canadian Prime Minister Stephen Harper agreed on Thursday to further facilitate the bilateral strategic partnership and promote greater progress of cooperation in diversified areas.
The agreement was made during their meeting in the Great Hall of the People.
"The two countries should stick to the principle and spirit of the China-Canada Joint Statement and enhance dialogue in the political field in a bid to expand common ground," Hu said.
The China-Canada Joint Statement was issued during Harper's previous visit in 2009.
Hu called on both sides to respect each other's development paths chosen by their people, and respect and accommodate each other's core interests and major concerns.
To boost trade links, Hu suggested full play be given to the strong complementarity of both economies while expanding cooperative areas.
Hu also proposed the enhancement of youth exchanges between both countries and the strengthening of coordination in global and regional affairs in order to promote recovery and sustainable growth of the world economy.
Harper, on his second visit since taking office in 2006, applauded the new progress of bilateral ties in recent years.
He said the two countries have seen an increasing consensus and common interests on many major issues.
Canada is committed to developing a strategic partnership with China based on respect and mutual benefit and hopes to maintain high-level exchanges and political dialogue, and enhance cooperation in such areas as trade, energy and investment, he said.
Harper also vowed joint efforts with China to address global and regional issues, to safeguard world peace and to boost new progress of global economic governance.
In a meeting with top legislator Wu Bangguo, Harper said his government highly values Canada-China relations and is committed to cementing win-win cooperation in trade and other areas.
Harper brought to Beijing a large delegation of cabinet ministers and lawmakers, as well as a large business delegation with representatives from the energy, transport, and education sectors.
Wu, chairman of the Standing Committee of the National People's Congress (NPC), said he regards parliamentary exchanges as an important part of the China-Canada strategic partnership.
"The NPC has set up sound cooperative ties with the Canadian Senate and the House of Commons. The regular exchange mechanism between the two countries' parliaments has achieved positive progress," Wu said.
He hailed the important consensus and progress the two countries made during Harper's current visit, adding that these achievements will inject new vitality to the bilateral win-win cooperation.
Vice Premier Li Keqiang also met with Harper later on Thursday and both attended a trade seminar for enhancing two-way trade.
Harper came to Beijing on Tuesday for a five-day trip as guest of Premier Wen Jiabao. The two premiers had talks on Wednesday and witnessed the signing of several bilateral agreements regarding cooperation in trade, technology, education, forestry, energy and agriculture.
Harper will also visit south Guangdong Province and the southwest municipality of Chongqing.
China and Canada forged diplomatic ties in November 1970. They established their strategic partnership in September 2005 during Hu's visit to Canada.