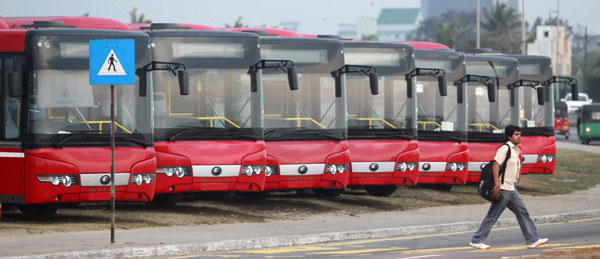 A man walks past China-made buses in Colombo January 31, 2012. [Photo/Agencies]
Chinese built luxury super low flow buses are to ease the traffic congestion in Sri Lanka, a spokesman said on Wednesday.
The first-ever public transport service with Chinese built buses covering the main routes entering the capital city Colombo is part of a pilot project to promote public transportation to passengers who use private vehicles.
Udayasiri Ariyaratne, Deputy General Manager of the Micro Holdings a local automobile manufacture said that more buses are to be imported to provide luxury bus service to the Sri Lankan passengers.
"Our aim is to provide comfortable transport service to all the people while reducing the number of vehicle entering the capital," he said.
Ticket prices of the new service will be two and half higher than the normal bus fair charged from the passengers.
The new bus service run during peak hours in the morning and evening is to reduce traffic and travel time and give greater comfort to commuters, officials said.
Almost all Sri Lanka's public transport services are using Indian buses. The leading Indian bus company Ashok Leyland which has a big share in the Sri Lankan bus market have sold over 8,000 buses over the past 6 to 7 years.