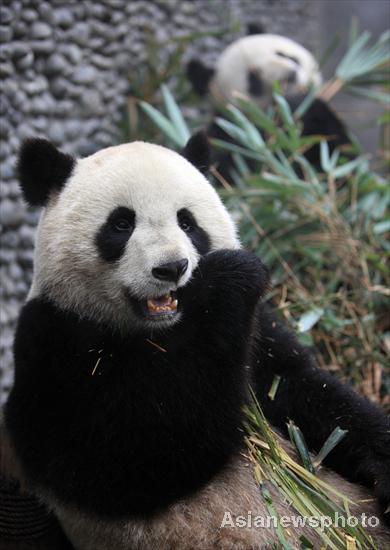 A pair of giant pandas eat bamboo at Chengdu Research Base of the Giant Panda Breeding in Chengdu, southwest China, Jan 10, 2012. The pandas, Huan Huan and Yuan Zai, will be sent to ZooParc de Beauval in central France on Jan 15 for a 10-year cooperation program of giant panda breeding. A special local wildlife and endangered species, the giant panda is always known as China's national treasure. [Photo/Asianewsphoto]
CHENGDU - Two giant pandas will board a chartered plane from southwestern China on January 15, embarking on a journey across half the globe to Paris, breeders announced on Tuesday.
China and France have agreed a deal that will see the pair stay in a French zoo for 10 years under a conservation and research program, said Hou Rong, an expert with the Chengdu Research Base of Giant Panda Breeding, home of the two and over 100 more pandas in Sichuan Province.
The couple - Yuan Zai and Huan Huan - were both born in 2008 and weigh 81 and 79 kg respectively, said Hou.
The two will stay in the Beauval Zoo in Saint-Aignan, central France, to allow staff to study panda breeding as well as training the endangered species before reintroducing them into the wild, Hou said.
In case the pandas are homesick, the zoo has built an enclosure with a style that combines both Chinese and French elements. It even bought construction materials and decorations, including traditional stone lions, from China, according to Hou.
Giant pandas are the world's most endangered species. About 300 of the animals have been bred in captivity and 1,596 others live in the wild, mostly in southwest China's Sichuan province.