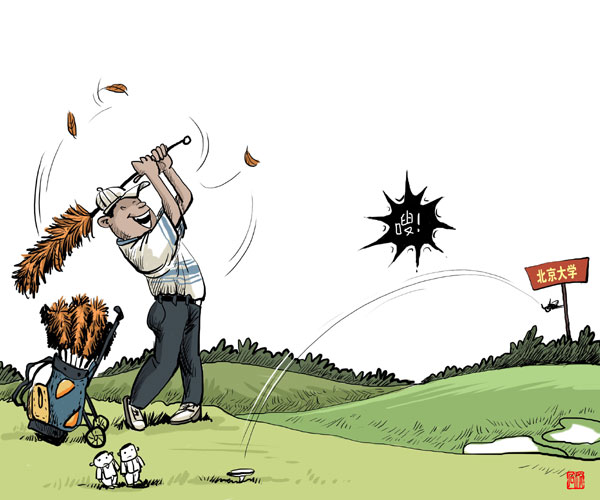 [Photo/newscartoon]
BEIJING - Following the roars of a "tiger mom" that stirred controversy on parenting in China, a Hong Kong businessman is promoting his "wolf dad" approach in his book "That's Why They Go to Peking University," a book touting how his "sticks make a great man" philosophy landed his three children at the prestigious university.
Xiao Baiyou, a father of four, claims to spend 90 percent of his time and energy on parenting. He rules with absolute authority at home, controlling nearly every aspect of his children's lives - from cartoons, snacks, and pocket money to extracurricular activities and their friends.
"As kids, they have no judgment about what's right and wrong, so I teach them," according to his book that has become a bestseller since being published on June 1.
Even when the wolf father is away from the lair on business, his children must call him for permission to drink sodas. Those caught violating the wolf father's rules can expect physical punishments, he writes.
When his children were in preschool, they spent days reciting Chinese classics ranging from poetry to philosophy. If they failed to meet his standards, the children would be beaten with a feather duster. And they could only go to bed after finishing all of their homework.
Prior to Xiao laying out his parenting code, Amy Chua, a Chinese American, became a sensation after her book, "Battle Hymn of the Tiger Mother," was published in China.
Some see Xiao's book as an opportunistic copycat looking to capitalize on a wide audience of parents eager for insight about how to educate their little emperors and princesses, the children of China's one-child family generation.
"In a society where parents mostly praise children, a wolf dad who claims that frequent criticism and physical punishments make his children successful surely catches people's eyes. I think he is trying to please the public with this claptrap," said Sun Jin, a professor at Beijing Normal University.