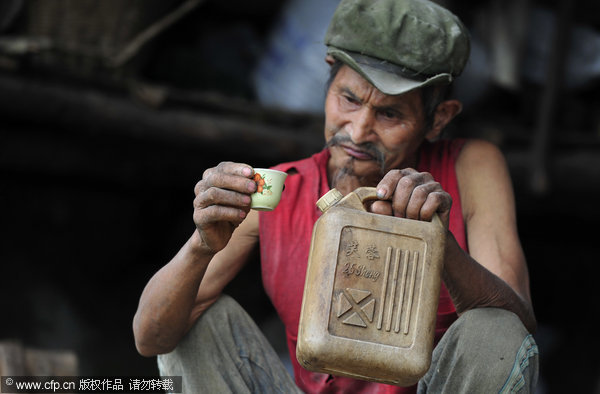 Chen Dejun drinks gas for medicine in Chongqing, July 11, 2011. [Photo/CFP]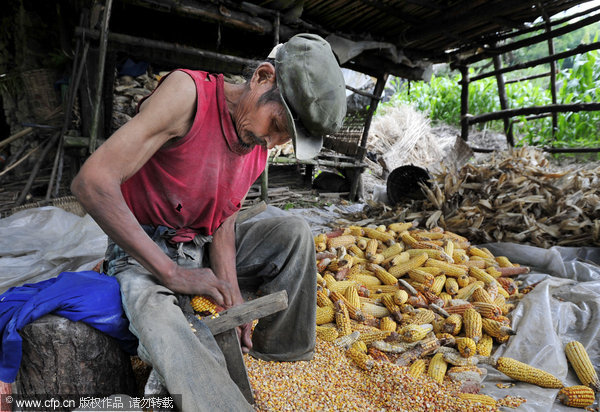 Chen Dejun works in his cottage in Chongqing, July 11, 2011. [Photo/CFP]
Gasoline powers vehicles all around the world, but a sick Chinese man has been drinking the sticky liquid for 42 years under the illusion that it can relieve his physical pain.
Chen Dejun, 71, lives by himself in shabby thatched cottage on a hill in Shuijiang township, Nanchuan district of southwest China's Chongqing municipality. The short and bony man said he drinks 3 to 3.5 kilograms of gasoline every month, which he buys from a station at the foot of the hill.
Chen is known locally as a stonecutter and master of weaving bamboo with a good business sense. But he's also known for his undying love of drinking gasoline.
He developed the habit back in 1969 when he suddenly began coughing and felt pain in his chest. Seeing no progress after trying some medicine, he took up the folk remedy of drinking kerosene, Chongqing Evening News reported.
It turned out to be helpful for him after the first sip, and he since became addicted to kerosene. Then he moved on to gasoline.
Chen said it is hard to calculate exactly how much gasoline he has swallowed throughout his life, but the newspaper reported Chen has consumed an estimated 1.5 tons over the past 42 years.
Chen's wife Yuan Huibi and their three sons tried many times to stop Chen's addiction to gasoline, but those efforts only made the family relations tense. Eight years ago Chen moved to the cottage to live alone.
Sources from Honglou Hospital in Chongqing said Chen's health is fine despite having symptoms of emphysema. Chen refused to receive free check ups from the hospital.
Feng Fu, an associate professor with the Second Hospital Affiliated to Chongqing Medical University, said Chen may have developed some resistance to gasoline. Otherwise, Feng said, it would be impossible for Chen to live. Feng also said gasoline may only work as anaesthetic for Chen but can't cure his pain.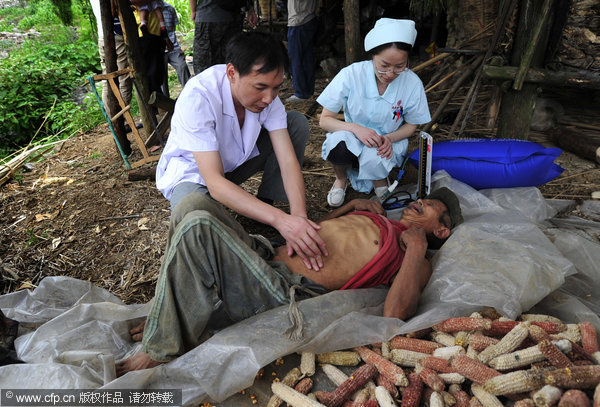 Chen Dejun receives medical check-up in his cottage in Chongqing, July 11, 2011. [Photo/CFP]