GUILIN - Nineteen workers have been confirmed dead while three others remain missing after a quarry was buried by landslide debris on Monday in south China's Guangxi Zhuang autonomous region, the local rescue headquarters said Wednesday.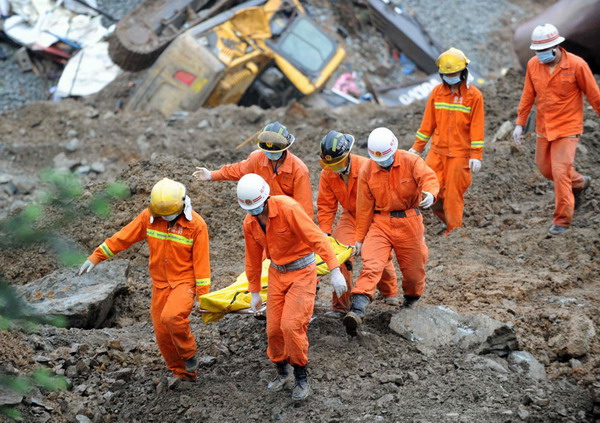 Rescuers carry the body of a landslide victim in Luojiang village, Quanzhou county, South China's Guangxi Zhuang autonomous region, May 11, 2011. The death toll from the quarry landslide rose to 19 on Wednesday while the another three people are still missing in the rubble. [Photo/Xinhua]
Rescuers with the fire prevention brigade of the city of Guilin used life detectors to comb through the rubble of the landslide-hit quarry in Quanzhou county, but found no signs of life, the rescue headquarters said in a press release issued midday Wednesday.
The rescue work was complicated by increasingly heavy rains on Wednesday, the statement said.
It also said that rescuers have covered the rain-soaked hills with plastic, hoping to prevent the rock and mud flows from creating further damage.
The landslide hit the quarry at 1:30 pm on Monday in the village of Luojiang, Xianshui township near Guilin, burying quarry workers resting in a makeshift dormitory.
Rainstorms wreaked havoc in many parts of Guangxi last weekend. The local government has warned residents of potential geological disasters, as the weather bureau says that the rain is expected to continue for at least two more days.