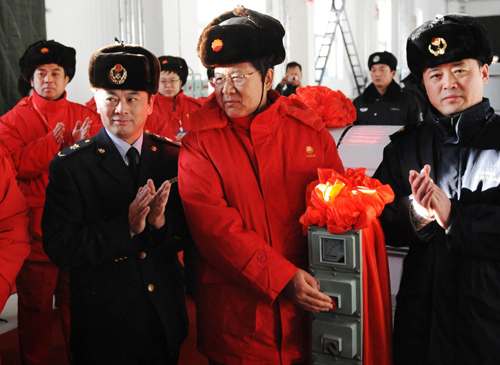 Yao Wei (C), general manager of the Pipeline Branch of Petro China Co Ltd (PBPC), pushes a button to make the pipeline begin operating at a plant in Mohe county, Northeast China's Heilongjiang province, Jan 1, 2011. [Photo/Xinhua]
Flow of oil solidifies countries' cooperative economic relations
MOHE, Heilongjiang - Some 42,000 tons of crude oil passed through an oil pipeline linking Russia's Far East to Northeast China in the first 24 hours since it began operating on Saturday, an industry insider announced.
The pipeline, which originates in the Russian town of Skovorodino in the country's Amur region, enters China via the county of Mohe and ends 927 kilometers south in the city of Daqing.
Related readings:


 China-Russia oil pipeline officially starts operations


 China, Russia oil pipeline starts operation


 Russia welcomes direct investment from China
Russia will annually pump 15 million tons of crude oil to China from 2011 to 2030, according to an agreement on the pipeline between the two countries.
The pipeline began operating at 11:50 am on Saturday, when Yao Wei, general manager of the Pipeline Branch of Petro China Co Ltd (PBPC), pushed a button at a plant in Mohe, which borders the two countries. PBPC is the operator of the Chinese section of the pipeline.
A total of 1.32 million tons of oil is scheduled to travel through the pipeline to China in January.
"The operation of the China-Russia crude oil pipeline is the start of a new phase in China-Russia energy cooperation," Yao said at the launch ceremony on Saturday.
The pipeline will improve the structure of the nation's energy imports and promote economic development, he said.
Sergey Tsyplakov, the Russian trade representative in China, made a similar comment in early December, when he said the completion of the pipeline project was a "milestone" in the two countries' development.
Construction of the 999-km-long pipeline project, with 72 km in Russia and 927 km in China, started last year.
Oil from the pipeline will add $8 billion to the trade volume between the two countries, according to projections calculated by Chinese customs officials based on the current international price of crude oil.
Once the oil arrives at Daqing's Linyuan Station, pipeline networks will pump it through to oil refineries in Dalian, Fushun and other northeastern Chinese cities.
Luo Xuefeng, director of Mohe's entry-exit inspection and quarantine bureau, said the oil will be sampled on a daily basis to monitor its quality. So far, the pumped oil has been up to the standard agreed by both sides.
The annual amount of oil pumped through the pipeline could increase in the future, depending on Russia's drilling capacity, Tsyplakov said.
Li Fuchuan, a researcher at the Chinese Academy of Social Sciences, said the operation of the pipeline will not only increase trade, but also improve mutual trust between China and Russia, cementing the economic foundation of the two countries' strategic partnership.
Zhang Shibin, deputy manager of the PBPC Daqing plant, said that while the trial operation of the pipeline went well, measures will need to be taken to prevent the pipes from cracking in May when the thaw sets in.
Xinhua