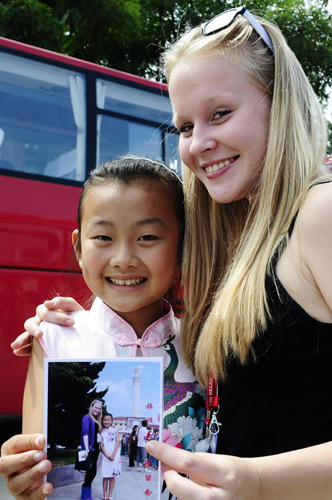 A Russian girl (R) from the summer camp and 12-year-old Chinese girl Yang Yi show their group photo taken at a memorial tower to commemorate the friendship between China and former Soviet Union in Dalian, Northeast China's Liaoning province, August 6, 2010. [Photo/Xinhua]
DALIAN, Liaoning - "I love China. I love Dalian," wrote Hatawa Chernova, 16, both in Chinese and Russian on a plate during a ceramics class in the port city of Northeast China's Liaoning province on Thursday.
Chernova had learned the Chinese translation of the sentence barely an hour ago.
Sitting a few feet away from Chernova, Chinese national Chi Muhan, 14, was writing "I love Russia" in both the languages as well.
Chernova, along with 262 Russian students, were on a visit to Chi's school - the Dalian No 15 Middle School.
Some 300 Russian students, aged from 12 to 17, began a 10-day summer camp in China last Saturday. They are in the country on the invitation of President Hu Jintao.
The camp is part of a program that will bring some 1,000 Russian teenagers on a visit to China in two consecutive years. The program was launched after Russian President Dmitry Medvedev's hosted 1,500 Chinese students from the quake-hit Sichuan province in 2008.
On Wednesday, the Russian teenagers were divided into two groups, one of which traveled to Dalian and the other to Qingdao after completing their Beijing leg.
During the trip, they visited famous historical sites like the Great Wall and experienced traditional Chinese culture together with their Chinese peers.
Anna Guseva, 16, said she liked the communication with Chinese students most, out of all the activities.
"We can get to make more friends, exchange opinions, and introduce our countries to each other," she said.
Amalia Abdulaeva, 14, became a member of the delegation by winning a piano competition. She said she was anxious before her first trip to China because she felt the burden of representing the Russian teenagers.
"I'm not anxious now. The trip is very interesting," she said.
Abdulaeva said she was eager to play the piano at their hotel lobby in Beijing.
"But I never found the time. The schedule is tight. Besides, I've learned a lot from the trip and the desire to play the piano in that hotel faded," she said.
Li Qiuchen, 17, does not know Russian and her Russian counterparts do not understand Chinese. But the language barrier did not stop them from trying to communicate with each other. They spoke in broken English, sometimes with gestures and by drawing pictures.
Their discussion covered a variety of areas, including food, languages, school life, and even pop icon Lady Gaga.
"I think the trip is too short. There's so much more left to say (to them)," Li told China Daily.
During the interaction, the students made ceramics, played Russian-styled games, drew portraits and also held some performances together.
About 180 students painted the Moscow Kremlin and the Great Wall on two10-meter-long canvases.
The tour to the school ended with the students exchanging gifts, including the canvases filled with all the students' signatures.
Some Chinese students said "goodbye" in Russian.
Valerie Marzoev, the leader of the delegation, was deeply impressed seeing the Chinese and Russian students holding hands.
"The children established friendships. It will make some impact on their minds," he said.
Marzoev said such exchanges are meaningful and practical as the students can personally experience the culture of another country.
He has invited 30 students from Dalian to join teenagers from 10 other countries for a camp in his All-Russia Children's Care Center in Vladivostok next summer.
Xinhua contributed to this story.