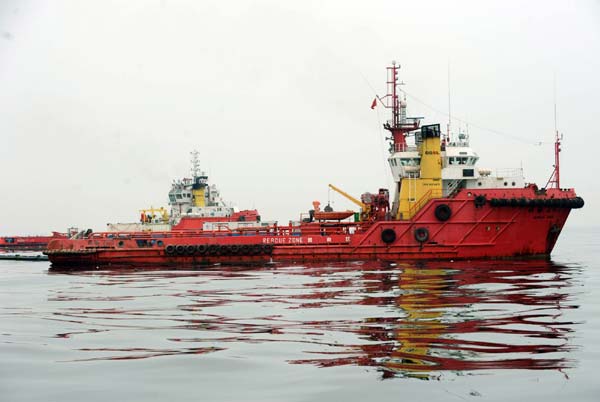 Vessels from the China Offshore Environmental Service Ltd. clean up the oil off the Dalian coast in Northeast China's Liaoning province, July 19, 2010. [Photo/Xinhua]
DALIAN - Over 500 fishing boats Monday joined a massive oil spill clean-up operation underway off the coast of northeastern China's Dalian city, three days after pipelines exploded near the city's oil reserve base, one of China's largest.
Dalian officials said Monday the fires have been completely extinguished and the focus has shifted to the ocean clean-up and the investigation into the blast.
Related readings:


 Cleanup continues after oil pipe explosion in Dalian


 Cleaning up oil slicks in Dalian


 Scramble to contain oil pipeline spill in Dalian


 Dalian seeks to contain oil pipeline spill


 Fire put out after oil pipeline blasts; no casualties
A dark-brown oil slick has stretched over at least 183 square kilometers of ocean near blast-hit Xingang port, with 50 square kilometers severely affected.
The slick can be seen about seven sea miles off Dayao Bay and it turns notably thicker about five sea miles off the bay and gives off a strong smell.
The over 500 fishing boats have been loaded with oil absorbers and dispersants to help in the clean up south of Dalian's Golden Pebble Beach and east of Bangchui Island, local maritime officials said.
Luan Yuxuan, deputy director of Dalian City's Oceanic and Fishery Administration, said the clean-up operations will take at least four to five days.
Each of the six large, specialized oil-spill-control vessels working in the clean up can take in 100 tons of oil-contaminated water per hour. But their work has been slowed by strong winds and big waves, said China National Offshore Oil Corporation engineers.
The cleanup started Saturday. By Monday morning, 24 oil clean-up vessels and 800 fishing boats had collected about 460 tonnes of the spilled oil, Luan said.
But officials said they did not know the exact amount of oil spilled into the sea.
Large quantities of oil-spill dispersant and absorption felts have been shipped in from neighboring Tianjin Municipality and Shandong Province, maritime officials said.
Meanwhile, vessel traffic at Dalian, China's second largest port for crude oil imports, has been limited to allow to the cleanup operations to proceed.
Wang Ning, an engineer with the maritime authorities in Liaoning Province, told Xinhua port operations have been limited and not completely suspended.
Ships are allowed to enter and exit the ports with permission, he said.
Fire engulfed the Xingang port Friday evening, after an oil pipeline exploded, triggering an adjacent pipeline to also explode. The fires raged for 15 hours before being extinguished Saturday morning. No one was hurt in the explosions or subsequent fire.
A high-level investigation team has been set up to probe the incident.
The storage facility is owned by Dalian port and China National Petroleum Corp (CNPC), China's top oil company.
CNPC General Manager Jiang Jiemin said the company has tightened safety measures at all of its facilities and will complete the clean up the slick as soon as possible.
Ding Shaoheng, a senior CNPC engineer, said the economic losses cannot be immediately estimated as the company may be penalized for the incident.
He said in any case the impact on CNPC operations would be limited.
The company, however, has announced plans to cut refining operations at one of its joint venture subsidiaries, West Pacific PetroChemical Corp. (WEPEC), by 20 percent in July and to suspend its export business.
The WEPEC is a major CNPC oil reserve base that exports roughly 200,000 tonnes of refined oil every month.